Fabergé presents the stunning royal lace-like necklace made of emeralds, diamonds and white gold.
Romanov necklace can be transformed and worn in several different ways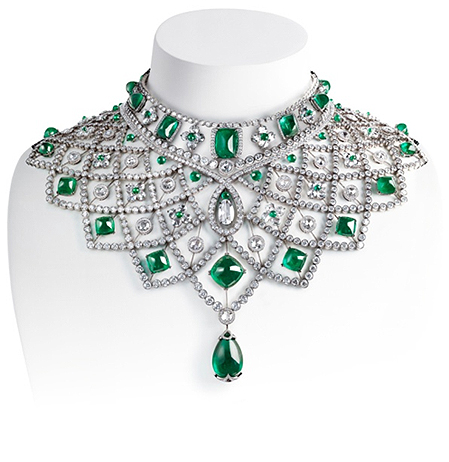 Peter Carl Fabergé (1846-1920) was appointed supplier to the Russian royal courts in 1885, on the delivery of the first of the famous Imperial Easter Eggs. But these were not the only creations Fabergé made for the Tsarist family; he also delivered high-jewellery, fine jewellery and precious little sculptures cut from hard stone to the ladies of the family.
In honour of the genius of Fabergé, the jewellery brand of today presented at Baselworld 2012 the Romanov necklace, a magnificent contemporary emerald and diamond collar. The creation is a regal reworking of an early Fabergé jewel, recreated and contemporised from an archival gouache design dated 1885. The design process took two months, followed by 14 months of intense and meticulous hand workmanship by some of the world's finest artisans, goldsmiths and gem-setters. The composition is set with 79 emeralds of exceptional quality (totalling 186.85 carats), featuring specially-cut sugar-loaf cabochons and a single pear-shaped drop of 30.65 carats.
The emeralds, ethical and ecologically sound, were sourced directly from Gemfields' Zambian mines and hand selected one by one, in the rough, at auctions over a period of a year, by Fabergé's Creative Director, Katharina Flohr, who ensured that the emeralds were perfectly matched in colour and character.
In all, the necklace is set with 2.225 gemstones, totalling 363.48 carats, including 1.991 round white diamonds (total of 98.15
carats), 151 rose-cut diamonds (total of 43.29 carats), with one rose diamond of 0.67 carats and a pear-shaped rose cut of 3.48
carats.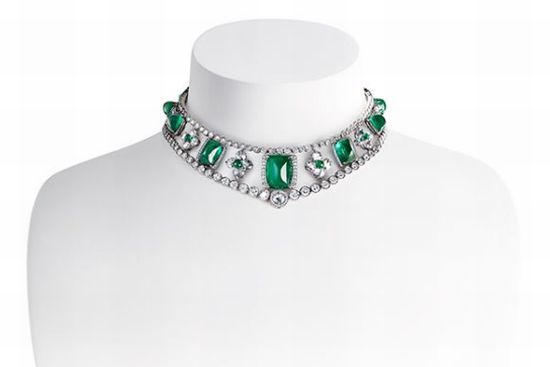 The Romanov necklace with its spectacular lace-like collar is complemented by a very modern versatility; the necklace has been constructed in three separate parts and can be transformed and worn in several different ways. The stunning choker detaches from the collar, allowing the two necklaces to be worn separately, while the choker can be worn alone or with the emerald drop pendant.
Fabergé's Romanov necklace  was dubbed by The Financial Times as "one of the most-buzzed about pieces being considered for Oscar night".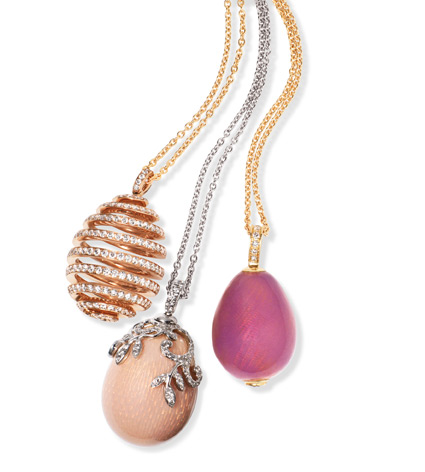 For Mother's Day, Fabergé enchants with Les Favorites de Fabergé (Oeuf Nina, Oeuf Duchess, Oeuf Spirale), a collection of timeless egg pendant treasures to pass from generation to generation.