Reebok  EasyTone Freestyle HI Exclusively for luisa via roma – an exclusive, limited edition collaboration with the iconic Florentine store.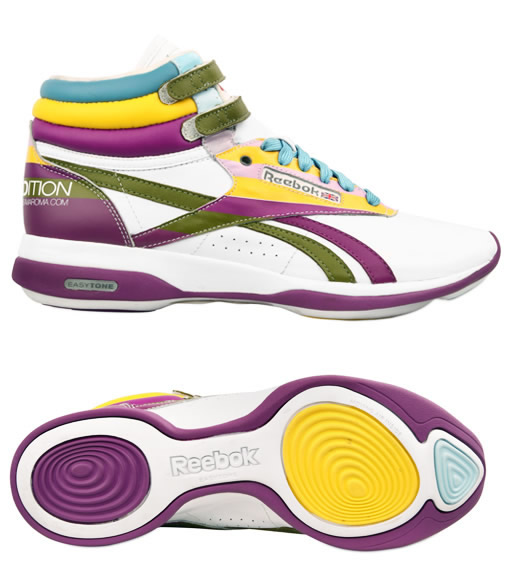 A special edition sneakers, both high tech and glamorous, that helps you to stay in shape in style? This is the promise of EasyTone Freestyle HI Exclusively for luisa via roma – a revolutionary shoe for women that combined "Reebok EasyTone" – the first toning sneaker and "Reebok Freestyle" – the sports shoe that made history not only by being the first sneaker for women but also the first to become fashionable and worn outside of the gymn.
Reebok and Luisa Via Roma have created this special limited edition design that brings together the past and the future of the sportswear brand: The iconic Freestyle HI, a symbol of the 1980s, for the first time now has a high tech EasyTone sole, that helps to optimize the use of the leg and thigh muscles whilst walking, a global success and an absolute must-have.
Made using white leather and striped details, with limited edition logo on the tongue and heel, the Easytone Freestyle Hi Exclusively for Luisaviaroma.com is personalized using touches of color inspired by the work of Swiss/New York artist Ugo Rondione loved byAndrea Panconesi, owner of the Florentine store. Only 100 pairs of these special edition sneakers are available.