Soothing lotus transports the wearer to their own personal moment of contemplation, drawing on rough and polished diamonds in a harmonious arrangement. The tranquility of a pond draped with lily pads is conjured with a unique arrangement of rough and polished diamonds.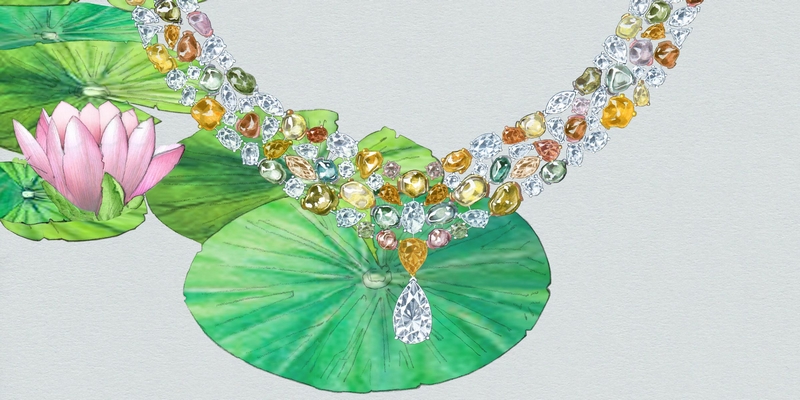 Lotus by De Beers High Jewellery Collection draws on this extraordinary lifecycle and interprets it with a palette of polished and rough diamonds, only made possible thanks to a unique diamond expertise.
The serenely beautiful lotus flower has long been revered for its ability to grow towards the light, creating a spectacle of shape and symmetry above still waters. The lotus flower's story begins at its moment of awakening, when its petals emerge from below the water. Emboldened by the arc of the sun overhead, the lotus unfurls to reveal a perfect bloom. The peacefulness of a pond draped with lotus flowers, just as the dusk arrives, marks the soothing end of the journey.
SERENE MOMENTS: SOOTHING LOTUS
The soothing lotus necklace blends rough and polished diamonds in a variety of hues; marrying oval and pear-shaped diamonds with the drama of a pear-shaped diamond drop. This artfulness is complemented with a captivating oval diamond ring.

FLOURISHING LOTUS
As the sun reaches its zenith the lotus flourishes from a simple bud to a perfect bloom. Each beautifully arranged petal is captured in a micropavé motif, accented with princess, pear and marquise-cut diamonds highlighting the round brilliant centre diamond.
Just like a rough diamond, the lotus flower has its own mysterious intensity. Its iconic shape is captured in De Beers Flourishing Lotus medallion necklace, where lines of De Beers signature micropavé orbit a round brilliant solitaire, supported by a slender sautoir chain of pear, marquise, princess and round brilliant diamonds. Pear-shaped earring drops and a bud-like pear diamond ring evoke the same natural symmetry.


AWAKENING LOTUS
As its petals emerge from below the water, the lotus awakens and experiences its purest moment in the light. This innocence is captured with pristine diamonds, reminiscent of water droplets cascading from petals, including an exceptional bluish green rough diamond macle.

RADIATING LOTUS
The lotus radiates a natural energy that mirrors the mysterious intensity of diamonds. This vitality is harnessed in lotus and kite-shaped
cascades of marquise, round brilliant and princess-cut diamonds.

BLOOMING LOTUS
The lotus is captured with a dynamic motif, brought to life with pear, marquise and baguette-cut diamond petals. This confident blooming
silhouette captures the motion of lotus as its petals unfurl.
The lotus flower's bloom is brought to life with a three-dimensional diamond motif, created with marquise and baguette-cut diamonds bordering three petal-like, pear-shaped diamonds. This is enhanced with cascading pear and marquise-cut diamonds in the Blooming Lotus necklace, and detachable pear-shaped diamond drops in the sculptural earrings. A dynamic ring completes the journey from robust bud to blooming petals.
images: de beers.