Deep Sleep for Beauty: Christian Louboutin x Sabyasachi. Couture tradition is invigorated with creative electricity and sheer joie de vivre.
Christian Louboutin and Indian fashion designer Sabyasachi Mukherjee are collaborating on a new exclusive, ultra-limited edition capsule collection for women and men. New and classic Christian Louboutin styles are reinvented and hand-crafted, each one-of-a-kind and some made-to-measure, in the most exquisite sari fabrics – all from Sabyasachi Mukherjee's personal collection.
A chance meeting between the two designers in Sabyasachi's Mumbai boutique lead to an immediate connection ignited by their boundless creativity and shared adoration of India's culture, exquisite craftsmanship and love of food.
"Like some of the best things in life, this was completely unplanned and by chance," Sabyasachi said when referencing meeting Christian for the first time. Sabyasachi confesses that upon first meeting Christian, he asked if they could collaborate. To which Christian exuberantly responded, "Yes!"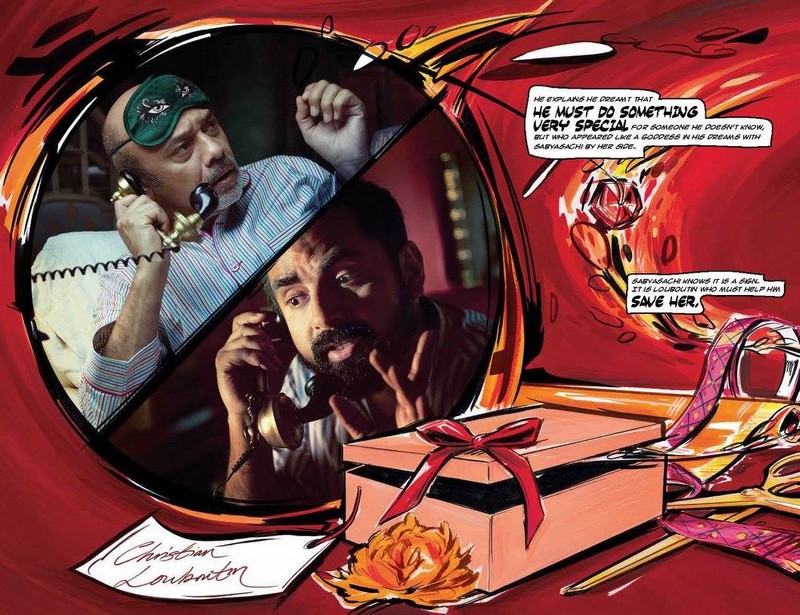 An expression of this joyful connection first came in July 2015, when Christian Louboutin conspired to create the extraordinary shoes that walked the runway of Sabyasachi's annual couture show held in Mumbai, followed again in October 2016, with a small number of exquisite handbags added to pair with the shoes.
Like a precious little pillow, Christian Louboutin's Piloutin clutch is adorned in colourful and unique sari ribbons – no two versions are the same. As a declaration of love to the glamorous Bollywood actresses dressed in Sabyasachi, an adorable Poupette handbag charm was created to complement the bags, adorned with embroidered ribbons and crystals. The rich patchwork motifs of CL x Sabyasachi's Louis Junior will take you near or far, from India to Paris.
Recalling inspiration from traditional Indian wedding shoes, Christian Louboutin's Dandelion loafer receives the Sabyasachi Mukherjee magic touch with an embroidered toe-cap.
"Indian handicraft is the best of the best in the world. The luxuriance of Indian workmanship is at the maximum. I would love the world outside of India to love it as I do." – Christian Louboutin
A manifestation of their creative tandem, Christian Louboutin imagined the graphic novel, A Deep Sleep for Beauty, to tell the story of the collaboration.
"The way we started to work together was very organic – very Indian, in a way," Louboutin told vogue. "What happened is that Mukherjee asked me if I could do shoes for his couture fashion shows in India, after we met randomly by accident in his Mumbai store. We started to collaborate, integrating my shoes in his shows and from that it was a natural step for me to do this collection. In his studio, where the embroidery is created, it's basically a type of Ali Baba cave – a profusion of colours, of beads, and of beauty in general. It's unreal, you have a lot of beautiful things which are sort of just put on the side, leftovers of things. I thought, instead of wanting to create something very specific and new, it would be very nice to work around things which are already existing and doing a mosaic of all those little bits and pieces."
"The art of collaboration – an increasing trend among high-profile designers – is one which Louboutin holds dear. Speaking frankly about the importance of "marrying different points of view", the famed footwear designer believes that's it's "nice to collaborate with people who are concerned with other things," added vogue.