Men on your bikes! Eight of the world's best Bike Polo teams, including French world champions 'Call Me Daddy', went tête-à-tête at Pitti Uomo for the title of champion.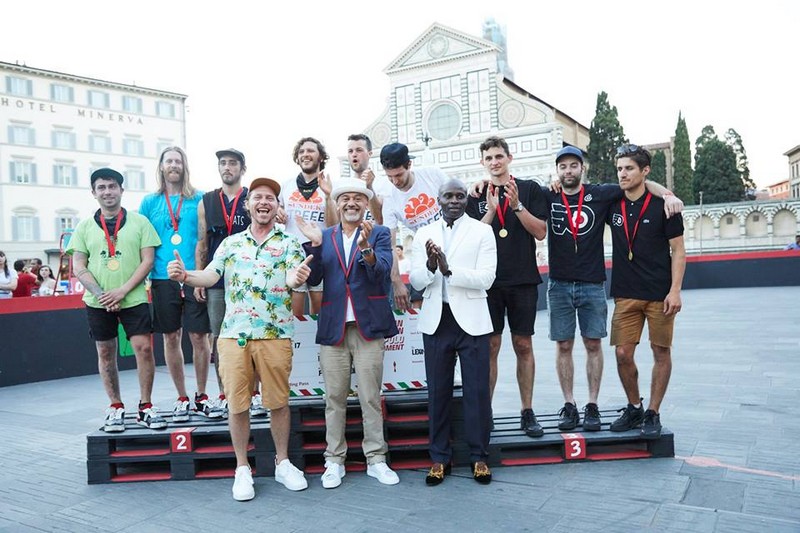 Under the blazing Florentine sun, eight Bike Polo teams from around the world hit the court at the recent 2017 Pitti Uomo for a fierce battle to the finish. Players captivated the audience around the iconic Piazza Santa Maria Novella equipped in Christian Louboutin's newest sneaker, Aurelien.
The new Aurelien shoe brings the energy of a classic '90's basketball sneaker to a modern, low-top silhouette.
Christian Louboutin was joined by two Parisian teams, prior world champions Call Me Daddy and Raclette Party, as well as Germany's The Mohawks, Ninja Five of Japan, Gnarcats representing the United States, Crouching Tigers from Hong Kong, Treee of Italy and Sky High from England. The designer's admiration for athletes and athletic style is nothing new; last year, along with friend Henri Tai of SportyHenri.com, he created the Cuban Olympic Delegation's Closing Ceremony outfits for the 2016 Rio Olympic Games.
Each team of three wore a different colour Aurelien, customised in form by our Florentine factories solely for the sport and this occasion. Monochromatic colours graced six of the teams, with an iconic red, black and white material mix seen on Seattle team, Gnarcats – and Christian Louboutin himself! With a complex construction that brings together fifty individual components in a single shoe, Aurelien is as unique to the world of footwear as Bike Polo is to team sports.
"For us players this was a great opportunity to showcase Bike Polo to a wider audience, and a rare chance to play in a central location in one of the major cities in the world. Usually our playing courts are hidden in the suburbs of industrial towns, not next to a landmark cathedral. Thanks to Christian Louboutin, we got a spectacular platform, we got the chance to meet teams we don't usually play against, and we also emphasized the stylish aspect of Bike Polo, which has always been linked to urban culture, fashion and trends," said Yorgo Tloupas, the captain of French team Raclette Party.
"I discovered Bike Polo through people in Paris, who are friends with our teams. I love that they are all so passionate. I greatly admire people that have the passion and discipline to make sport their life," said Christian Louboutin.
Bravo to the champions, the Italian Bike Polo team Treee!
Taking the prize in their home country, Treee won a custom trophy and a trip to the Bike Polo championships this fall in Lexington, KY. Christian Louboutin and the second place finishers Gnarcats and third place CALL ME DADDY celebrated along with the winning team.