Ultra high net worth (UHNW) luxury watch manufacturers and retailers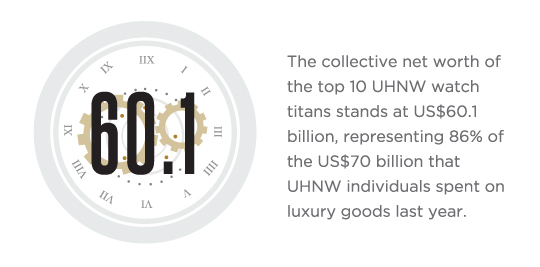 With a net worth of US$26 billion, Bernard Arnault, chairman and CEO of LVMH, is the world's richest watch titan, according to Wealth-X top 10 UHNW global watch titans list. Francois Pinault, founder of PPR, ranked second with a net worth of US$9.9 billion. In third place is Johann Rupert, chairman of Compagnie Financiere Richemont, with a net worth of US$5.1 billion, followed by Francois-Henri Pinault (4) and Bertrand Puech (5).
The UHNWIs on the list are prominent names in the luxury sector and watches form an important part of their business portfolios, states Wealth-X.
The collective net worth of the top 10 UHNW watch titans stands at US$60.1 billion, representing 86% of the US$70 billion that UHNW individuals spent on luxury goods last year.
10 UHNW luxury watch manufacturers and retailers:
1.Bernard Arnault – LVMH Group – Est. Net Worth (US$ billion) 26.0
2. Francois Pinault – PPR – Est. Net Worth (US$ billion) 9.9
3. Johann Rupert – Compagnie Financiere Richemont – Est. Net Worth (US$ billion) 5.1
4. Francois-Henri Pinault – PPR – Est. Net Worth (US$ billion) 4.5
5. Bertrand Puech – Emile Hermes SARL – Est. Net Worth (US$ billion) 4.1
6. Ginette Moulin – Groupe Galeries Lafayette – Est. Net Worth (US$ billion) 3.1
7. Hussein Gazzaz – Hussein Bakry Gazzaz & Company – Est. Net Worth (US$ billion) 2.4
8. Esther Grether – Swatch Group – Est. Net Worth (US$ billion) 2.0
9. Nicolas Hayek Jr. – Swatch Group – Est. Net Worth (US$ billion) 1.7
10. Chamnong Bhirombhakdi – Pendulum The Watch Specialist – Est. Net Worth (US$ billion) 1.3