---
This article titled "What makes a Marni woman?" was written by Lauren Cochrane, for theguardian.com on Monday 22nd September 2014 12.10 UTC
Marni is a happy oddity in Milan, where sexy clothes dominate, and the spring/summer 2015 show was no exception. It came with clompy shoes, midi-lengths and asymmetric tops made from bonded wool. Now the label is 20 years young, it is apparent that artistic director Consuelo Castiglioni has built a brand on clothes that mix schoolgirl shapes with crafty finishing. It's the kind of label that is less red carpet, more art gallery opening, and all the more loved for it. Instead of a razzle-dazzle party, Marni celebrated its birthday with a flower market on the last day of Milan fashion week.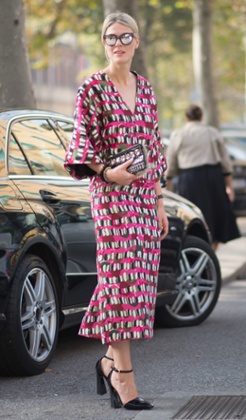 Featuring flamingos made of plastic, wholesome snacks and a craft table for kids, it was very on-brand. Here are five things that make up the Marni look
Pattern
Castiglioni could never be called a minimalist. Print is vital to Marni and often comes a bit retro, like something more at home in interiors. SS15 had the best interpretation of the Matisse influence so far.
Crystals in odd places
Marni was one of the first brands to use chunky jewels on daywear – a pair of flat strappy sandals with massive jewels on the top is a very Marni conceit. Part glamour, part utilitarian, it's a surprisingly good combination.
Bottle green
The darkest green is a very Marni colour – and often appears on boxy T-shirts across women's and menswear. A bit school uniform, and a twist away from boring black, it fits right in. Mix with claret for the full kilt and blazer look.
Crafty fabric
It might be raffia, it might be rubber – or, next season, chunky sparkly flowers. There's always something going on with texture during a Marni show. These are clothes to touch as well as look at.
Wonky volume
You might see a flared A-line skirt (very Marni) or a blouse with huge sleeves (ditto) – Marni is not about bodycon. Sculptural shapes, often in fabrics that stand away from the body, are there every season.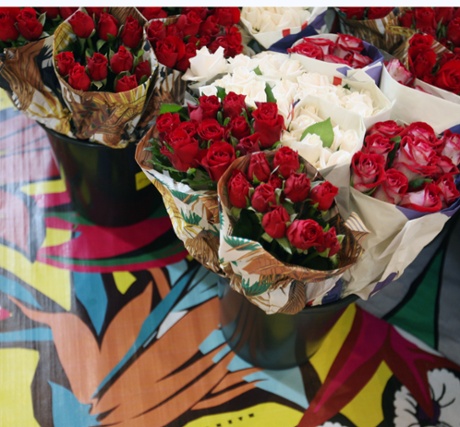 The story of a Marni woman
Nicola Rose, Red magazine's fashion and creative director, has been wearing Marni for 15 years. She describes her love affair with one of fashion's favourite insider brands.
"I started my career at teen magazines, so was used to Topshop and H&M. When I went to Red in 1998, there was this world of luxury that was new to me. It was around this time that Marni was starting and I had money to buy expensive clothes for the first time. I have grown with the brand and learned to understand it. Marni is a lifestyle and it isn't everyone's cup of tea. But I do think everyone can wear it if they want to – you design how loud or quiet your Marni look is.

Ultimately, the Marni woman is smart, stylish and intelligent. She varies massively but those three qualities are always there. It is a label that appeals to those in the creative industries because it isn't straightforward. Some runway pieces feel like they need a manual to wear them but once you have read the manual you know how.

I have a ritual with my Marni shopping. I like to go to the store about three weeks before the shows and try everything on with the help of the amazing shop assistants. I find the pieces that work for me. The store is never busy but you can see the Marni fans coming from a mile away – there's a plastic earring, a flat sandal. It's a tribe."
guardian.co.uk © Guardian News & Media Limited 2010
Published via the Guardian News Feed plugin for WordPress.