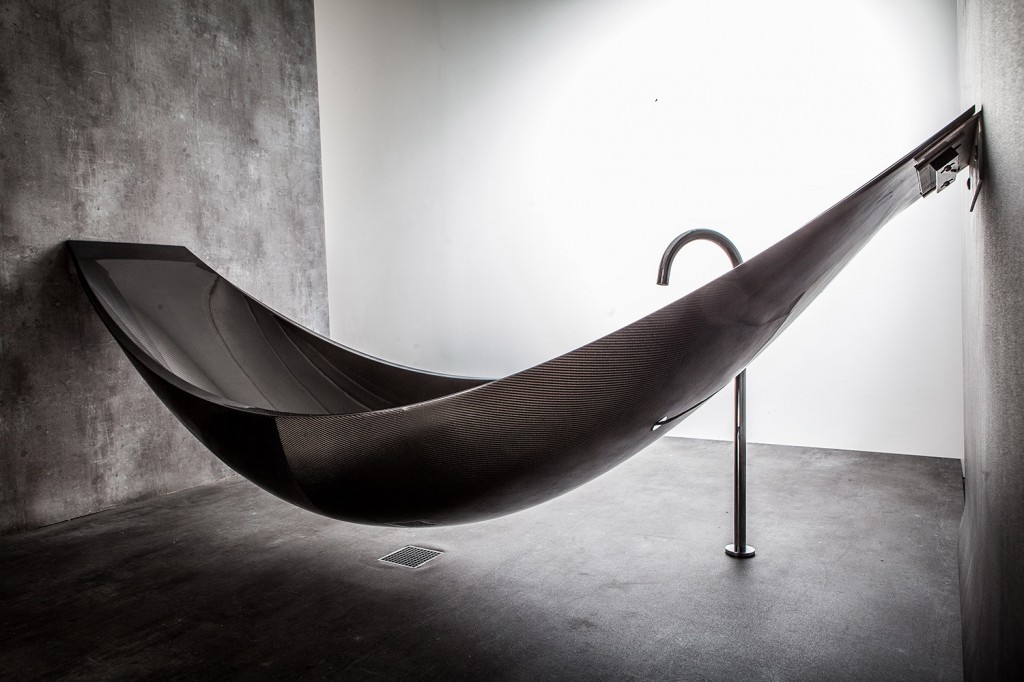 It levitates and resembles a hammock. The carbon fiber hammock bathtub from Splinter Works combines the experience of kicking-back in a hammock with the immersive comfort of soaking in a hot bath. By literally elevating the experience of bathing into a suspended sculpture the bathroom has been reinvented as a contemplative sanctuary for artful relaxation.
"Vessel" is made from carbon fibre which is utilised for its inherent strength and ability to be formed into complex curves, furthermore the weave of the fabric references the cloth of a typical hammock.
"Struck by the synergy between the shapes of two compelling symbols of relaxation, a hammock and a bath tub, we were inspired to develop a piece that would provide the ultimate vehicle for total escapism," explained Miles Hartwell, co-founder of Splinter Works.
Vessel luxury bathtub is suspended from the walls and does not touch the floor. It is fixed with stainless steel brackets that can be covered over, or left revealed. The bath is filled using a floor standing tap and the waste water released through the base into a floor drain. A downpipe drain can also be installed if a wet room setting is not possible.