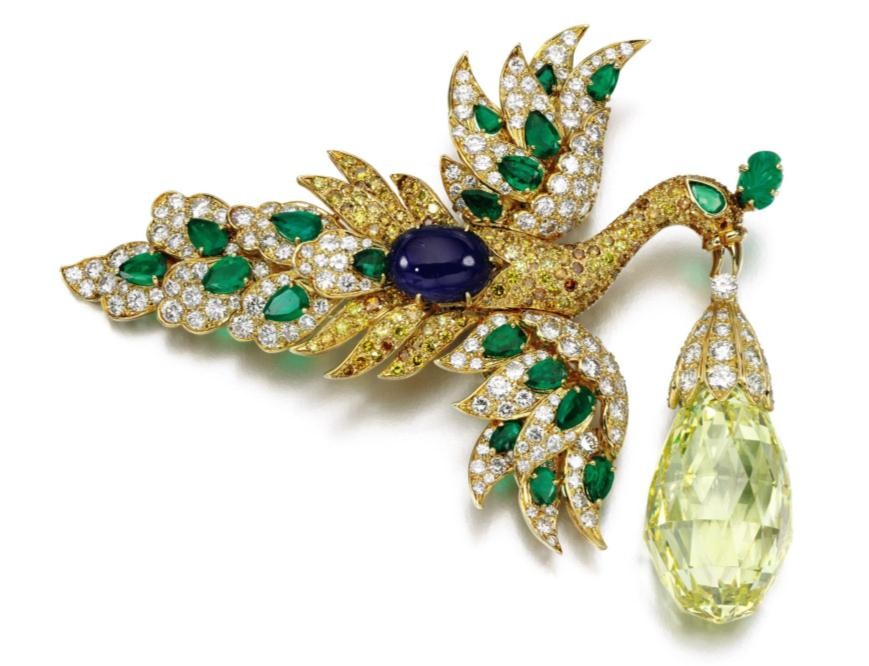 An iconic jewel by Van Cleef & Arpels, known as "Walska Briolette Diamond" Brooch, could fetch US$8 million when it goes under the hammer at Sotheby's "The Magnificent Jewels" auction in Geneva next month. The brooch showcases the historic "Walska Briolette Diamond", a fancy vivid yellow diamond weighing 96.62 carats. One in the collection of opera singer and jewellery connoisseur, Ganna Walska, the briolette was subsequently mounted as a brooch and most recently exhibited at Van Cleef & Arpels retrospectives. Sotheby's pre-sale estimated price is US$8 million (£5 million).
The Gemological Institute of America graded the notable diamond of 96.62 carats as a natural fancy vivid yellow briolette with a VS2 clarity grade.
"The Walska Briolette Diamond brooch is the perfect demonstration of how a great jeweller can emphasise the beauty of a spectacular stone
by transforming it into a unique piece. This historic diamond, which is of an extraordinary size for an antique-cut briolette, comes back
on the market after 42 years, in a fabulous bespoke piece of jewellery," said David Bennett, chairman of Sotheby's jewellery division in
Europe and the Middle East and chairman of Sotheby's Switzerland.