Take a look at these three famous cities brightly lit across the night skies.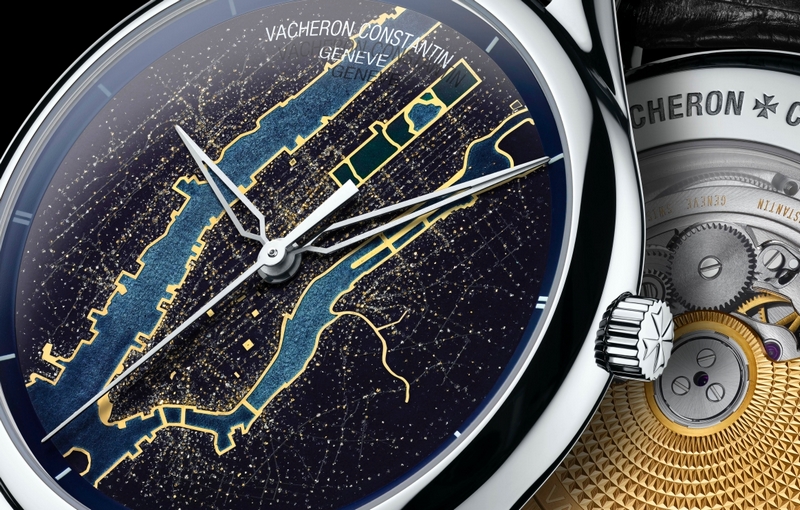 A new artistic craft is making its first watchmaking appearance in a dialogue with Grand Feu enamelling. Vacheron Constantin's Grand Feu champlevé enamelling is enhanced with hand-applied precious powder technique.
Vacheron Constantin's new Métiers d'Art Villes Lumières collection made in collaboration with Japanese artist Yoko Imai is an invitation to embark upon a nocturnal journey above Geneva, Paris and New-York. The aerial views of Geneva, Paris and New York retrace the life of iconic landmarks.
The luxury watchmaking Maison has dreamed up a sparkling encounter between two exceptional arts: Grand Feu champlevé enamelling and hand-applied precious powder. Particles of gold, pearl, platinum and diamond powder are endowing the enamel with exceptional radiance. Yoko Imai mixes pearl and diamond dust with the Chinese ink,which gives her creations a unique sparkle. By her innovative method, she decomposes and recomposes the ideogram, which is the basis of the traditional calligraphy which she has practices for the past 30 years.
Based in Paris, Yoko IMAI won the contemporary art prize 2013 of the Montblanc Cultural Foundation. She studied under several great masters, and obtained in 2003 the diploma of Professor of Calligraphy accredited by the Ministry of Education, Culture, Sports, Science & Technology of Japan. Her original style of creation has been presented in various media in the U.S., in Europe, and in Japan. Nicknamed "Petits bijoux", her works have been acquired by many well-known leaders of culture, business etc., as well as the director of one of the great historic museums in Paris.
According to deployant, "The particles of precious powder, all of varying shades and degree of luminosity, interact both amongst themselves and with the dark shades of the Grand Feu enamelled background. The radiance of the composition is more intense in the dial centre and gradually softens towards the outer edges of the dial."
The Métiers d'Art Villes Lumières collection perpetuates the age-old Vacheron Constantin tradition of artistic crafts. For almost three centuries, gemsetters, enamellers, guillocheurs and engravers have been cultivating and passing on these forms of expertise that have become extremely rare.
Vacheron Constantin Métiers d'Art Villes Lumières watch collection – Specifications:
Reference: 86222/000G-B105;
Shape: Round;
Diameter (mm): 40.00;
Thickness (mm): 13.3;
Material of the case: 18K white gold;
Material of the dial: 18K gold;
Water-resistance (bar): 3 Informations;
Watch strap material: alligator Mississippiensis;
Watch strap color: black;
Type of buckle: Ardillon buckle;
Buckle material: 18K white gold;
Specificity:
Delivered with a Magnifying glass.