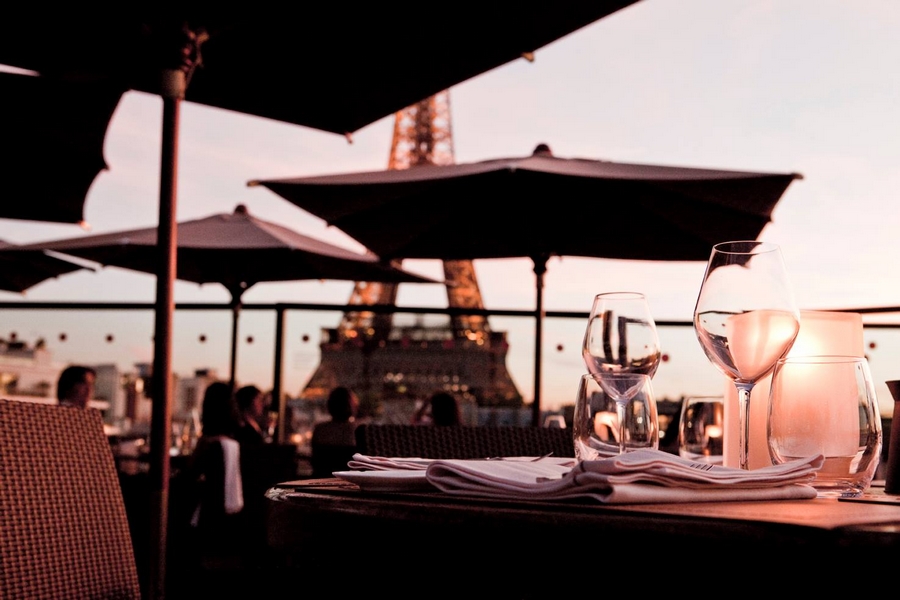 ---
This article titled "Top 10 museum cafes and restaurants in Paris" was written by John Brunton, for theguardian.com on Tuesday 7th April 2015 04.59 UTC
The Louvre has 15 eateries. You can have a cocktail on the roof of the Centre Pompidou. And well-known chefs are getting in on the act too, with Michelin-starred Jean-Louis Nomicos opening a restaurant in the city's latest cultural hotspot, Fondation Louis Vuitton, while one of the greatest French chefs, Guy Savoy, will be opening a restaurant soon at Monnaie de Paris. But it isn't all haute-gastronomie: the standard of cuisine in Parisian museum cafes and restaurants is being upped across the board, and food lovers realise you don't have to pay the entrance fee to sit down for a great meal in often stunning surroundings. Here are 10 of the best offbeat, affordable museum dining experiences.
Musée Jacquemart-André
Café Jacquemart-André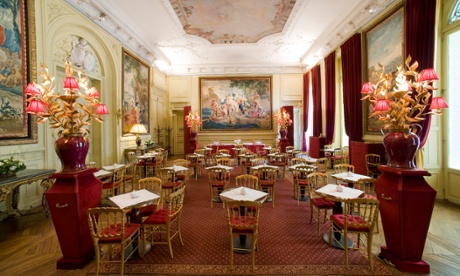 This private museum may not attract the crowds of big players such as the Musée d'Orsay and the Louvre but the opulent 19th-century palace that houses the permanent collection of the Jacquemart-André family is worth the visit alone. While temporary exhibitions, such as the upcoming Giotto to Caravaggio, are usually high-quality, its sumptuous cafe is also not to be missed. It is in a majestic salon, the walls of which are decorated with flamboyant 18th-century Flemish tapestries with a Tiepolo fresco adorning the ceiling, while the terrace overlooks a landscaped garden. There is a big choice of salads at lunch and brunch is served at the weekend, but the best plan is to enjoy afternoon tea – with a dozen different brews to choose from, accompanied by freshly-baked pastries.
• Afternoon tea €11.50. 158 Boulevard Haussmann, +33 1 45 62 11 59, musee-jacquemart-andre.com. Museum open daily 10am-6pm, till 8.30pm on Mon and Sat during exhibitions
Le Jardin des Plantes

La Baleine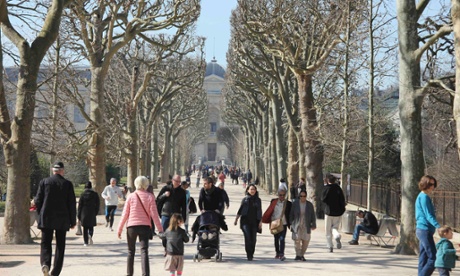 Paris's botanical garden is one of the best places to spend a hot city day; it's great for the family, with a fun restaurant – but also the possibility to just picnic under a shady tree. That'll be in between visiting the magnificent art deco greenhouses, the dinosaur skeletons of the Grande Galerie de l'Évolution or the small zoo that dates back to the days of Louis XIV. If you don't want to buy provisions for your own picnic, there are four kiosks around the gardens selling sandwiches and soups. The casual restaurant, La Baleine, specialises in brasserie-style dishes: steak tartare and pommes frites, grilled crottin de Chavignol (goats cheese on a spinach salad), and a classic creme brulee.
• Plat du jour €16. 47 Rue Cuvier, +33 1 40 79 80 72, restaurant-la-baleine.com. Open daily for lunch midday-3.30pm, call to make reservations for dinner
L'Institut du Monde Arabe
Café Littéraire, Self, Le Zyriab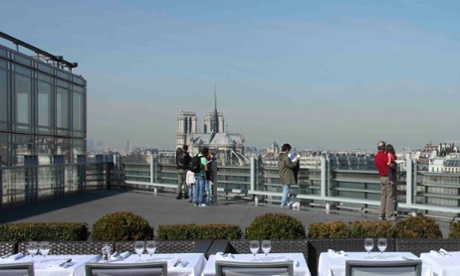 Jean Nouvel's stunning building for the Arab World Institute already stands out on the Paris skyline, and now boasts what may be the city's biggest Nous Sommes Tous Charlie sign. This vast cultural centre is a venue not just for ground-breaking exhibitions, but for film screenings, dance and music performances. There are also three very different eateries, all run by the renowned Lebanese restaurateurs, Noura. On the ground floor, the casual Café Littéraire is the place to indulge in a glass of mint tea and irresistible oriental pastries. Up on the 9th floor, stop off for a quick, inexpensive lunch of mezze at the self-service Self, or splash out and book a romantic table for a tagine or couscous at Le Zyriab, where the rooftop terrace has views over Notre Dame and the river Seine.
• Le Zyriab, two-course set lunch €39, +33 01 55 42 55 42, open daily midday-3pm, 7.30pm-midnight. Self, two mezze €4.90, open Tues-Sun 11am-3.30pm. Café Littéraire open Tues-Sun 10am-7.30pm. 1 Rue des Fossés-Saint-Bernard, imarabe.org
Le Bal
Le Bal Café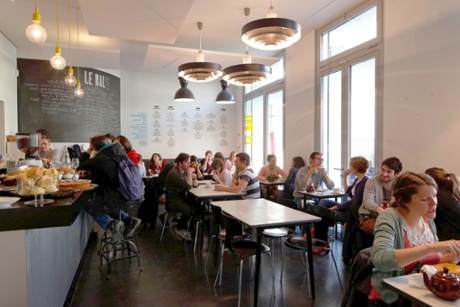 In the newly hip neighbourhood north of the Place de Clichy, Le Bal is a contemporary photography and visual arts centre curated by Diane Dufour, a former director of Magnum. The Bal Café is run by two lively English chefs, Alice Quillet and Anna Trattles. Their creative cuisine has seduced local Parisians and the place is packed out every lunchtime for dishes such as smoked haddock and cabbage chowder, pork brawn and prune pâté, and lamb chops with broad beans and crunchy puntarella (chicory). Open till 11pm, they serve afternoon tea and tapas in the evening.
• Starter and main dish €20. 6 Impasse de la Défense, +33 1 44 70 75 51, le-bal.fr. Open Wed-Fri midday-11pm, Sat 11am-11pm, Sun 11am-7pm
Le Petit Palais
Le Jardin du Petit Palais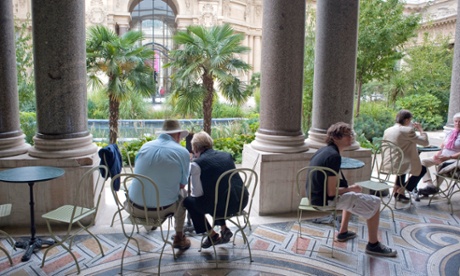 The Petit Palais is across the road from its monumentally big brother, Le Grand Palai – both were built in 1900 for France's Exposition Universelle. Today, the Grand Palais hosts major exhibitions, with long queues invariably snaking out of its entrance, while the Petit Palais is the discreet home of the more low-profile Paris Fine Arts Museum. But the biggest surprise awaiting visitors is the enchanting restaurant, Le Jardin du Petit Palais. Right in the middle of the museum is a magical interior garden of lush, exotic vegetation, encircled by colonnades decorated with vibrant frescoes and art-nouveau mosaics. While the restaurant stretches over a bright, modern two-floor dining room, the place to be is sitting beneath the vaulted portico at one of the tables set between each of the marble columns, looking out over the garden and the palace's ornate dome. The cuisine is simple, cafeteria-style, with a pasta and soup of the day, salads and sandwiches. Great in the afternoon for Le Tea Time: Lenôtre macarons, tea by Mariage Frères.
• Seafood risotto €9. Avenue Winston Churchill, petitpalais.paris.fr. Open Tues-Sun 10am-5.15pm
Musée Rodin
Le Café du Musée Rodin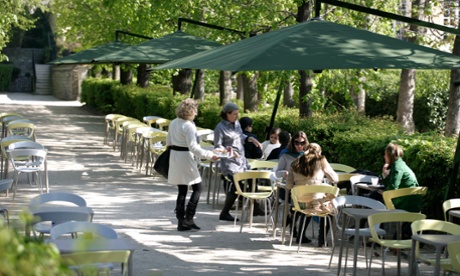 The Musée Rodin has long been one of the small jewels of Paris's museums – where you are rarely disturbed by crowds. The three hectares of ornamental gardens attract visitors as much as the 300 works by the great sculptor exhibited in the museum's Hotel Biron, an imposing 17th-century mansion. Inside the garden, not far from Rodin's iconic Penseur (The Thinker), the cafe has a minimalist interior salon; it's open year round but the place really comes to life once the weather is nice enough to sit outside. Expect no-frills self-service, with a large selection of salads, all freshly prepared, lots of tempting cakes, and a hearty dish of the day such as barbecue spare ribs. Unlike most museums you have to buy a €2 entry ticket for the gardens.
• Salad, dessert and soft drink €18.50. 79 Rue de Varenne, +33 1 45 55 84 39,musee-rodin.fr. Open Tues-Sun 10am-5pm
Palais de Tokyo
Monsieur Bleu, Le Smack, Tokyo Eat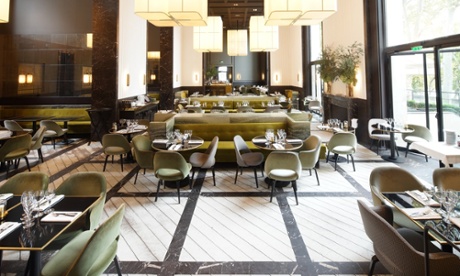 The Palais de Tokyo, which overlooks the Seine and is opposite the Eiffel Tower, has two immense wings – both dedicated to contemporary art. The part housing the Musée d'Art Moderne only offers a basic cafeteria (though the outdoor terrace does have stunning views of the Eiffel Tower) but the adjoining Palais de Tokyo, which hosts avant-garde exhibitions, has the more interesting eateries. The gourmet Monsieur Bleu only opened last year and is already a favourite power-lunch venue for art world movers and shakers, but the prices are not cheap (à la carte from €30pp). Inside there is the health food self-service Le Smack, where soups and salads cost €4-€6, while the funky Tokyo Eat (plat du jour €13) is a striking industrial-style diner with psychedelic orange lamps, bar, and open kitchen. The eclectic cuisine ranges from confit duck shepherd's pie to salmon with a curried sauce of red peppers and passion fruit.
• 13 Avenue du Président Wilson, palaisdetokyo.com. Monsieur Blue open daily midday-2am; Tokyo Eat open daily midday-midnight; Le Smack open midday-midnight
Le Musée de la Vie Romantique
Cafe Vie Romantique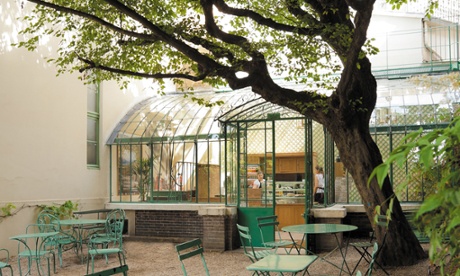 This is one of the most discrete but enchanting Parisian museums, an early 19th-century mansion tucked away down a narrow cul-de-sac in the backstreets of Pigalle. Once owned by the painter Ary Scheffer, part of this literary museum is devoted to the life of George Sand, who was a regular visitor here, along with the likes of Chopin, Delacroix, Liszt and Charles Dickens. There is a small glass conservatory and garden where a cafe opens from March to October. Run by the famous Parisian salon de thé, Angelina, this has a small selection of fresh salads, but is best for a pot of apple tea or its famous Angelina Chocolat Chaud.
• Salad €8.50. 16 Rue Chaptal, cafe-vie-romantique.com. Open Tues-Sun 10am-6pm
Musée du Quai Branly
Café Branly, Les Ombres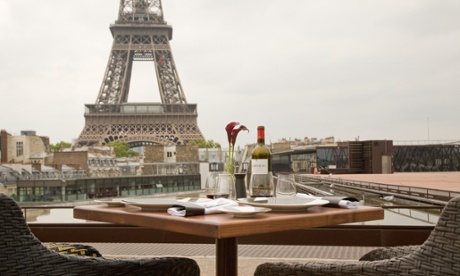 The Quai Branly's amazing collection of art from Africa, Asia, Oceania and the Americas is rivalled by the audacity of the architecture of the building itself – designed, like L'Institut du Monde Arabe, by Jean Nouvel. What dominates here is not the museum building itself but the green wall of living vegetation that cover's its facade and the sprawling, wild gardens that are the opposite of a formal French garden. The ground floor Café Branly looks out over the gardens, and is perfect for a simple lunch before embarking on a visit to this vast museum. There is also a smart but pricey gastronomic restaurant on the top floor, Les Ombres, terrace of which is opposite the Eiffel Tower.
• 37 Quai Branly. Café Branly, plat du jour €17, +33 01 47 53 68 01, quaibranly.fr, open Tues, Wed, Sun 9.30am-6pm, Thurs, Fri, Sat 9.30am-8pm. Les Ombres, two-course set lunch €32, +33 01 47 53 68 00, lesombres-restaurant.com, open daily midday-2.15pm and 7pm-10.30pm
La Cinémathèque Française
Les 400 Coups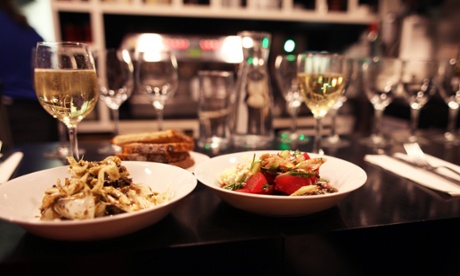 The French film museum is in a stunning Frank Gehry-designed building, in the verdant Parc de Bercy. This part of Paris has come to life again since Bercy's historic wine warehouses were saved from demolition and converted into boutiques, bars and restaurants – and the Cinémathèque is the cultural heart, with its permanent collection, film festivals and exhibitions. At Les 400 Coups restaurant, which opened in October 2014, Séverine Haiat and Elizabeth Conter home-cook all the dishes and use seasonal and locally-produced ingredients. The menu changes daily and includes many vegetarian dishes, like pumpkin, celery and ricotta soup. They buy their wines direct from organic producers, and stock a great malt craft beer, Monk, brewed in nearby Montreuil.
• Plat du jour €10. 51 Rue de Bercy, +33 1 43 44 18 72, les400coupsalacinematheque.fr. Open Sun-Mon 11am-7pm and Wed-Sat 11am-10pm
guardian.co.uk © Guardian News & Media Limited 2010
Published via the Guardian News Feed plugin for WordPress.