The Modernist Collection of Luxury Appliances, Dacor's full line of revolutionary new kitchen products. A collection to represent and reflect the changing role of the luxury home kitchen.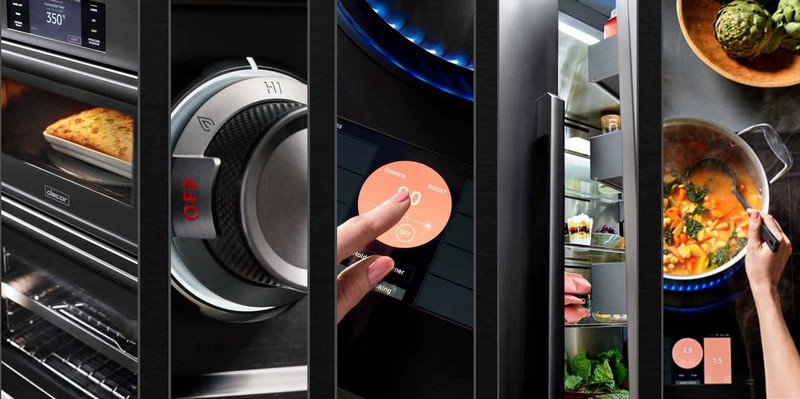 The affluent kitchen as the most important place to connect and create unforgettable meals. To accentuate and elevate the sophistication of any kitchen, Dacor, the leading American brand among luxury home appliance makers, introduced a full line of revolutionary new kitchen products.
Called "The Modernist", the collection also takes stainless steel in an exciting new direction, with a dramatic graphite color. The launch represents Dacor's first new products since Samsung acquired Dacor in 2016. With the acquisition of Dacor, Samsung expanded its home appliance portfolio to include luxury home appliances, still produced under the Dacor brand.
As a leader in the ultra-premium kitchen appliance market, Dacor's products have been recognized with prestigious awards including GOOD DESIGN, Kitchen & Bath Industry Show (KBIS) Best in Show, Digital Trends Best of Consumer Electronics Show (CES) Home Award, and many more.
With consumers envisioning the kitchen as a place to entertain and connect with friends and family, as well as prepare awe-inspiring meals, The Modernist Collection presents a new vision for what a luxury kitchen can be.
Dacor's new suite encompasses the entire kitchen appliance set including column refrigeration, ranges, ovens, cooktops and other innovative products.
Featuring a full portfolio of product sizes, including 18", 24", 30" and 36" to fit with any kitchen design, the columns exhibit exquisite style and an impressive feature set. Tall panel-ready doors with a true flush design ensure a seamless blending within the kitchen cabinetry; when opened they reveal a full stainless interior, with glass / aluminum bins and LED lighting. Intuitive features like the Dual Ice Maker and Flex Zone Drawer can keep up with any party. The column's interior minimizes insulation thickness to ensure maximum capacity with no impact on the outer dimensions. Dedicated Precise Cooling maintains minimal temperature fluctuation inside the column to improve food preservation.
Available in two sizes, Pro Dual Fuel Steam Range features highly sophisticated design and performance. Professional level precision comes through with the powerful sealed brass burners and integrated electric griddle. Complete steam cooking solutions – including one of the largest water reservoirs in the industry – feature Steam Bake and Steam Roast, resulting in healthier cooking options and perfectly cooked dishes inside and out. Four Part Dual Pure Convection is a superior cooking technology featuring two fans that distribute heat to achieve optimal results. The Dacor iQ Kitchen app lets you remotely monitor and even control your oven using your smartphone.
The Double Wall Oven lets you focus on guests while impressing them with perfectly prepared dishes. Features include Steam Bake, Steam Roast, Four Part Dual Pure Convection, and strategic lighting. For the space- efficient home chef who is high on expectations, the Combi Double Wall Oven provides flexibility with its upper cavity microwave and lower cavity convection oven. Stand-out features include Convection Sear technology, and Steam Convection.
The Modernist Collection also features Pro Rangetops, which offer the same premium features as the range, as well as induction and gas cooktops. Both cooktops are designed to install flush to the countertop to extend the theme of clean lines and seamless integration to truly provide a modern look in the kitchen.