Clear vision no matter how and where you move. Nike Vision Introduces Cutting-Edge Hyperforce Sunglasses Designed For Baseball & Training. The new top-of-the-line styles bring the latest advancements in eyewear technology to the brand's recently released Men's Training collection.

Developed with direct insights from All-Stars Mike Trout and George Springer, as well as other top Nike athletes, the Hyperforce and Hyperforce Elite were built for dynamic lateral movement. Nike Vision collaborated with optics industry leader ZEISS to develop the new Nike Field Tint – a high-performance green-based tint that enhances the ability to track and intercept objects in bright and shifting light. Ideal for baseball, field sports and tennis, the Nike Field Tint mutes harsh light while allowing the athlete to maintain sight of the ball with minimal interruption. The outer lens is treated with a reflective mirrored coating that shields the athlete's eyes from opponents and provides aggressive styling.
The Hyperforce and Hyperforce Elite sunglasses were designed with unparalleled performance features and benefits. The strong angular eyewear includes a ventilated frame to prevent fogging and rubber elements for enhanced grip to eliminate slippage caused by sweat. Thin temple tips allow the frames to fit on top or underneath a hat, providing stay-put comfort. To maximize coverage and provide a wide field of view, the sunglasses feature a raised top bar and a subtle nose pad that eliminates obstruction. The Nike Hyperforce and Hyperforce Elite feature an auto-adaptive nose bridge and temple arms that adjust to the athlete's unique face shape, allowing for a secure fit during lateral movement. The collection will be released globally in September.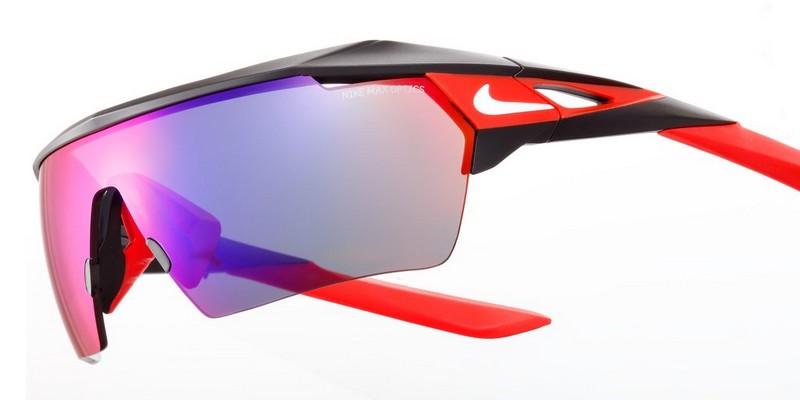 NIKE HYPERFORCE ELITE, $236.00 – $260.00
The Hyperforce Elite Training sunglasses are built with advanced optics in a one-piece lens that provides an uninterrupted line of sight no matter how and where you move. Available in six colors.
NIKE HYPERFORCE, $196.00 – $210.00
The Hyperforce Training Sunglasses feature adaptable comfort and advanced optics that are designed for clear vision no matter how and where you move. Available in six colors.