The Porsche Panamera is even more efficient, sporty, comfortable, and elegant.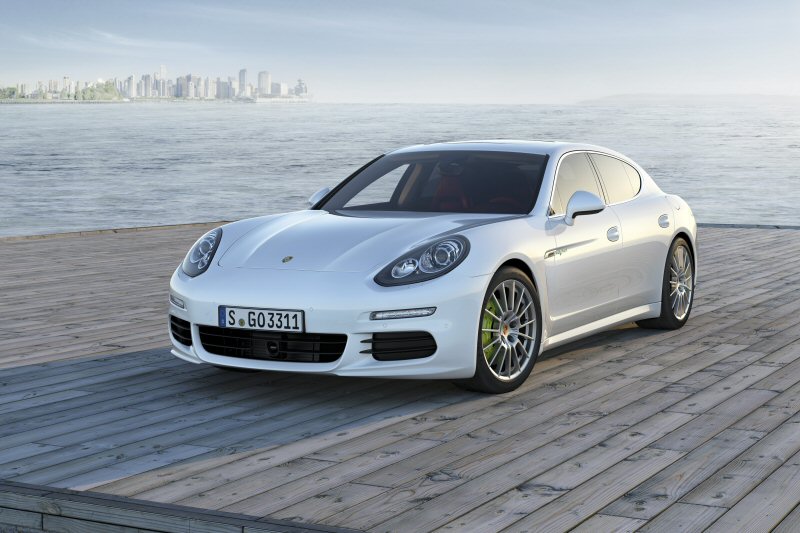 The 2014 Porsche Panamera, the World's first plug-in hybrid drive in the luxury class, celebrates its world premiere at the Shanghai Auto Show, which opens its doors on the 21st of April 2013. Along with the 416-hp Panamera S E-Hybrid, two luxurious Executive versions are also making their debut with an extended wheelbase and an entirely new three-litre twin-turbocharged V6 engine for the Panamera S and Panamera 4S, announced Porsche.
The Panamera S E-Hybrid far exceeds the driving performance of the previous model. In addition, the previous model's NEDC fuel consumption of 7.1 l/100 km was reduced by 56 per cent to 3.1 l/100 km. That equates to CO2 emissions of 71 g/km. At the same time, its all-electric driving performance was substantially improved with regard to electric acceleration, electric range, and electric top speed. A pure electric driving experience is possible without any fuel consumption or local emissions, which is especially advantageous in the urban environment.
The electric driving range of the Panamera S E-Hybrid was determined to be 36 kilometres in NEDC-based testing. Driving range may vary in real operation, says Porsche, since air conditioning and heating are deactivated in NEDC test conditions. A realistic all-electric driving range in everyday operation would lie somewhere between 18 and 36 km. The Panamera with the new hybrid drive can reach speeds of up to 135 km/h in all-electric operation.
The electric drive produces 95 hp (70 kW), which is more than double the power of the previous model's electric motor at 47 hp (34 kW). It draws its energy from a newly developed lithium-ion battery, which at 9.4 kWh has over five times the 1.7 kWh energy capacity of the previous battery in nickel metal hydride technology. When connected to an industrial outlet, it can be charged within around two and a half hours via the integrated on-board charger and the standard Porsche Universal Charger (AC), and it can be charged in less than four hours when connected to a conventional household electrical outlet.
The acceleration time from a standstill to 100 km/h was shortened by half a second to 5.5 seconds. The car's top speed is 270 km/h.
Prices for the new generation of Panamera models start at $89,500 for the Panamera and $94,800 for the Panamera 4. The Panamera S is priced at $106,600 and the Panamera 4S at $112,500. The Panamera S E-Hybrid will cost $125,900, which is followed by the Panamera GTS at $129,400 and the Panamera 4S Executive at $143,600. The top models are the Panamera Turbo for $161,500 and the Panamera Turbo Executive for $184,100.