We love British cars, we always did. As the British men's tailor made suits they are unique. After Jaguar – who is not British any more ( only with the DNA…), the famous constructor from Crew – Bentley announced that it is possible that the next Bentley to be made in Slovakia.But is this DNA enough? As a luxury consumer – do will you buy something which is not made "there"? Or instead the cars who were made there – at the origins – will be more valuable as before. To be honest with you – in the redaction we think that brands as Jaguar, Bentley or Rolls Royce must to remain in Britain, at least to be build there…because the owners are not British any more.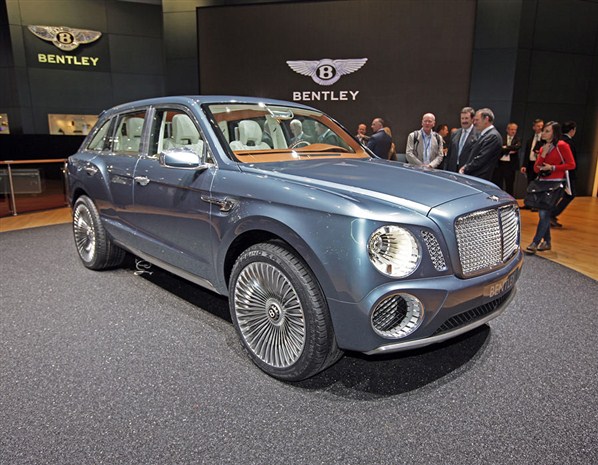 ---
This article titled "Bentley's first 4×4 likely to be made in Bratislava, not Crewe" was written by Rupert Neate, for The Guardian on Tuesday 19th March 2013 16.23 UTC
It has been an iconic image of British engineering prowess for 94 years, but Bentley's next luxury car is probably going to be made in Bratislava.
Wolfgang Schreiber, Bentley's chairman and chief executive, said the company's new sports utility vehicle (SUV) may be built in the Slovak capital rather than in Bentley's Crewe workshops.
Moments after extolling the importance of skilled British craftsmanship in maintaining Bentley's luxury reputation Schreiber told the Guardian that moving manufacturing to Bratislava was a "good option".
Schreiber said Bentley, which is owned by Germany's Volkswagen, had not "fully decided" where to build the new SUV, provisionally named the Falcon, but indicated that Volkswagen bosses would prefer to make the car in Bratislava.
The company is also considering making parts in Crewe and shipping them to Bratislava for final assembly.
"It might be assembled somewhere else, but the DNA is still [going to be] Bentley," Schreiber said.
In comments likely to enrage Bentley's 4,000 highly skilled workers in Crewe, he added: "It might not be assembled by Bentley people but this is a minor thing."
Kevin Rose, Bentley's director of sales and marketing and the highest-ranking Briton in the company, said: "The single most important thing is that the design and concept is British."
Rose conceded that if manufacturing were moved to Bratislava the company would no longer be able to stamp the cars with its famous "Made in Crewe, England" plaque.
Schreiber said Bratislava was an attractive location because wages were lower in Slovakia than in north-west England. The Slovak city is a major manufacturing hub for VW, and the Porsche Cayenne and Volkswagen Touareg are already built there.
Schreiber said the company's board was fighting for the best solution for Bentley and said he knew staff in Crewe were "very, very motivated to get that car".
But he said Bentley had to "build sustainable cars that make money".
Mark Andrews, a representative of the Bentley Drivers Club in Crewe, said it would be awful if the company moved production out of Britain. "To keep it British it's got to be made in England," he said. "It would be awful to have 100 years of British engineering history going offshore."
The new model will go into production in 2015-2016. Bentley said it would be priced towards the high end of Range Rover's new SUVs, which are expected to sell for up to £125,000.
Bentley declined to provide any details of the new car, but Schreiber said it "definitely will not be a [Chelsea] tractor".
Rose added that if he has "anything to do with it won't be called the Falcon", and said it would look nothing like the concept model revealed just weeks ago.
Bentley, founded by brothers Walter Owen and Horace Millner Bentley in 1919 in Cricklewood, north London, was purchased by Rolls-Royce in 1931. It was bought by VW in 1998.
The company shipped 8,510 cars last year, with America its top market closely followed by China, where it plans to open 20 new dealerships. It is also planning to branch out into Thailand and Romania for the first time.
guardian.co.uk © Guardian News & Media Limited 2010
Published via the Guardian News Feed plugin for WordPress.