ST Dupont recreated a dreamlike and marvellous world by paying homage to the tales of the Thousand and One Nights.
The collection that celebrates masterpiece of Eastern literature contains a Ligne 2 lighter, Néo-Classique fountain pen and roller, a pen holder with paper cutter as well as an ink bottle. Every ST Dupont's item is numbered out of 1001 pieces.
Pursuing this theme of luxury and sophistication, S.T.Dupont has created two "diamond" version of this collection with a lighter and a pen in solid white gold.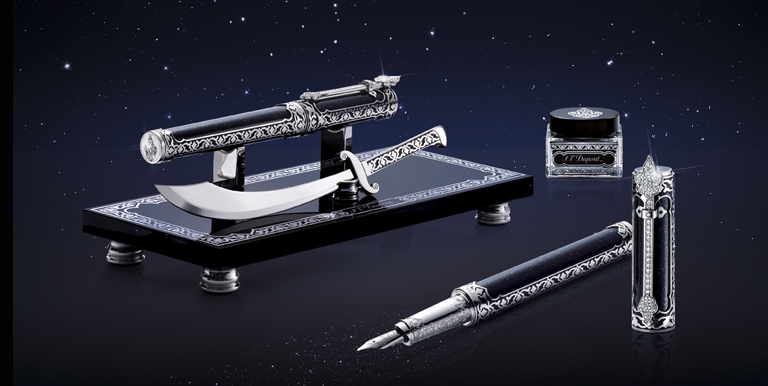 The lighter is set with 137 white diamonds of 1,841 carats, and the pen with 129 white diamonds of 1,841 carats.
 Thousand and One Nights exclusive items are limited to 28 pieces each.
Thousand And One Nights is the last ST Dupont's collection of 2011. Last year ST Dupont presented 2 collection dedicated to Philippe TOURNAIRE (Philippe Tournaire New architectural masterpieces and Catacombes), Magic Wishes (dedicated to "Aladdin and his Magic Lamp") and  Hope, a collection dedicated to the disastrous events that occurred in Japan. All profits, namely 50 Euros per product, were donated, through the French Red Cross, to the Japanese Red Cross.