Send lucky messages to your loved ones with your own poetic 8-second-video. Which symbols of luck inspire you?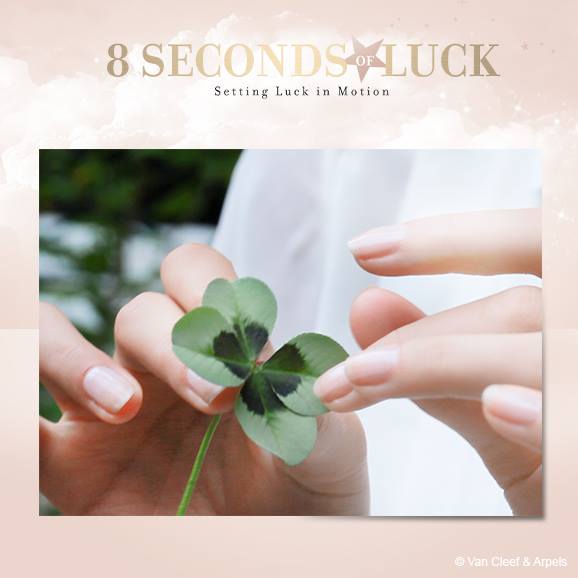 Jacques Arpels, the co-founder of the French jewelry, watch, and perfume house of Van Cleef & Arpels, liked to present his colleagues with four-leaf clovers accompanied by a poem. He declared that "to have luck, you must believe in luck." In a similar way, Van Cleef & Arpels gives the opportunity to share messages of luck with friends.
Following in the footsteps of Burberry, French jewelry maker created the "8 Seconds of Luck" website for sentimental messages. Fans are invited to create an eight-second video poem on the theme of luck, send it to a friend, and register to win a trip to the opening of the Van Cleef & Arpels flagship store in New York. Luck is a quality that the Maison holds dear, guiding its footsteps and inspiring some of its most emblematic creations. The luxury jewelry house created the experience to enable users to share their own vision and their personal experience of "luck", through the publication of personalised "Luck messages in motion"– including texts, and video extract.
Choose your Perlée or Alhambra inspirations, write a personal message and create an 8-second-video to send luck to your loved ones on 8-seconds-of- luck.vancleefarpels.com/
On the occasion of Watches & Wonders event in Hong Kong, Van Cleef & Arpels unveals a new Poetic Complications™ timepiece: the Lady Arpels Jour/Nuit Cerfs-Volants which features an automatic movement with an additional 24h module exclusively developed for Van Cleef & Arpels. A young man and a young woman make a secret wish by launching a kite into the air. Above them, a joyful ballet of kites enlivens a sky that changes throughout the day.