The new Romain Jerome watch is a reminder that JOY is portable. Bring it with you!
To honor 20 years of the light-hearted Pokémon, RJ-Romain Jerome has partnered with The Pokémon Company International to release a limited edition of 20 funny but top-end pieces featuring Pikachu, the Mouse Pokémon who can help other Pikachu who are feeling weak by sharing its electric current… The exuberant watch follows the same fun register as the Romain Jerome Tetris version, the Space Invaders watch, or the timepieces housing Super Mario and Pacman.
The most well-known Pokémon character is the centerpiece, taking up the entire dial with a happy smile and inviting pose. The optimistic watch features a joyful Pikachu applique hand-painted in yellow cold enamel and an engraved Pikachu's Electric-type pattern. Pikachu's tail is struck by lightning as it raises it to check its surroundings. This timepiece showcases time and joy. Other highlights include a yellow vulcanised rubber strap and integrated ball-and-socket joints.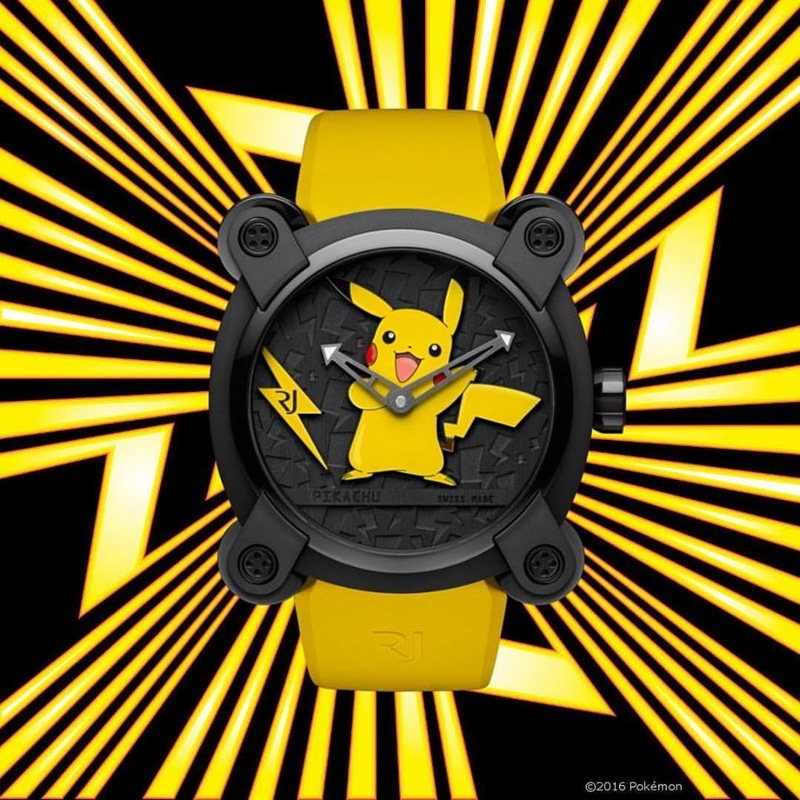 "With a first reference to 21st century pop culture, the brand pays tribute not only to an icon but to a social phenomenon which has become a global force over the last 20 years," explained Romain Jerome's master watchmakers.
The vulcanized rubber strap matches the character's signature yellow color. On the black DLC-coated baseplate, the engraved lightning pattern reminiscent of the electrifying character is either sand-blasted or satin-brushed to create depth.
"This collection is the perfect combination of each brand's DNA: the star of Pokémon is paired with RJ-Romain Jerome's star model, the Moon Invader. With a very unique and recognizable shape, the complex titanium case features RJ's emblematic articulated lugs, the integrated ball-and-socket joints which allow a better wrist adjustment," added the watch manufacture.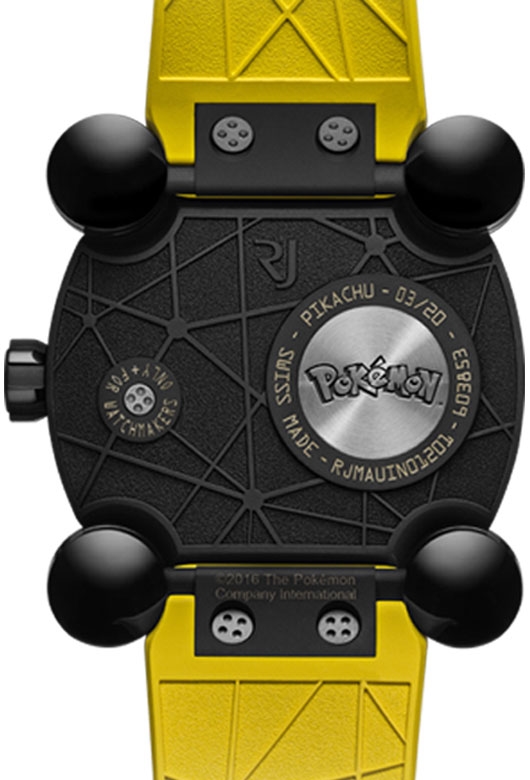 2016 marks the 20th anniversary of the release of the original games, with the company celebrating by airing an ad during Super Bowl 50, and issuing re-releases of Pokémon Red, Blue, and Yellow. The mobile augmented reality game Pokémon Go was released in July 2016. The next generation games Pokémon Sun and Moon are expected to be released on November 18, 2016 worldwide, except for Europe's release date being on November 23, 2016. A live- action film adaptation based on Great Detective Pikachu is planned to start production in 2017. The English slogan for the franchise is "Gotta Catch 'Em All."