The Jersey Shore, Bend, OR, Cape Cod and other vacation destinations are heating up as the coronavirus drives New Yorkers and San Franciscans to relocate.
Resort Towns Are Becoming Permanent Destinations for Homebuyers Fleeing Big Cities During the Pandemic
Popular second-home destinations including the Jersey Shore, Cape Cod, Lake Tahoe, Palm Springs and Bend, OR are heating up and becoming full-time residences for homebuyers who have the luxury of working remotely, according to a new report from Redfin, the technology-powered real estate brokerage. Redfin's ranking is based on year-over-year change in home prices, home sales, the share of homes that sold above their list price, the speed of home sales and Redfin.com searches.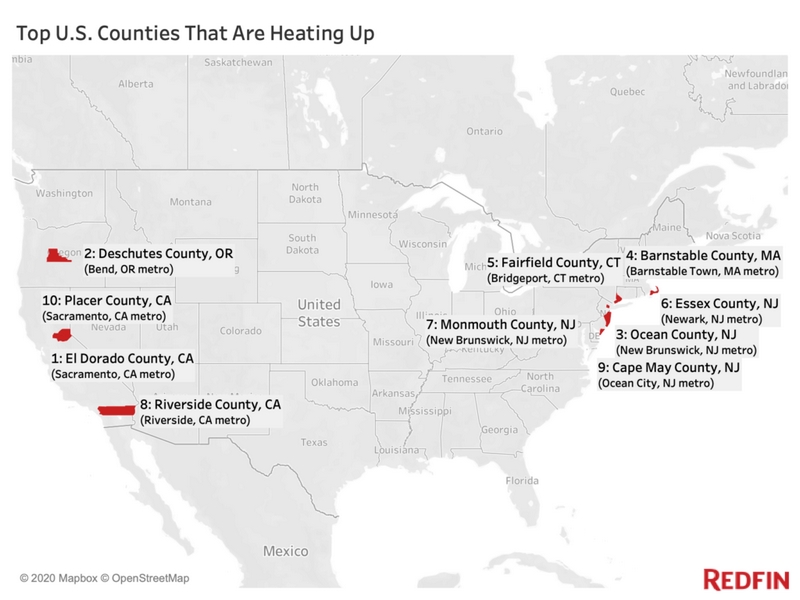 Top 10 Counties Heating Up:
El Dorado County, CA, a region spanning from the eastern outskirts of Sacramento to the southern half of Lake Tahoe, came in first place for the second time in a row, while the adjacent Placer County made the top 10 as well. Both are located in the Sacramento metropolitan area, which was the most popular destination for homebuyers looking to relocate in the third quarter, according to an analysis of Redfin.com users. San Francisco was the top origin for out-of-area buyers looking in Sacramento. One other California market—Riverside County, which is home to the desert resort city of Palm Springs—also ranked in the top 10.
Deschutes County, OR, which is about four hours southeast of Portland, nabbed the number-two spot. With access to the Cascade mountains, millions of acres of national forest, and the vacation towns of Sunriver and Bend, the area is especially popular among hikers, bikers, fishermen, skiers and snowboarders, according to local Redfin real estate agent Angelica Webb.
"We've always described Bend as a second-home town, but now we're seeing it transition into a place where more people are living full time because they're no longer required to go into the office. We joke that it's becoming a `Zoom town,'" Webb said. "A lot of folks are moving to Bend without having ever stepped foot here. They've heard good things and want to get out of their cramped San Francisco or Seattle apartments, so they're coming here and buying awesome, 3,000-square-foot colonial homes."
The Jersey Shore, a popular summer getaway for East Coasters, has also become a hotspot for families looking to escape big-city life during the pandemic. Three of the four New Jersey counties that ranked in the top 10—Ocean County, Monmouth County and Cape May County—are on the Jersey Shore.
Housing Market Summary of U.S. Counties That Have Heated Up the Most (September 2020*)
1. El Dorado County, CA (Lake Tahoe);
2. Deschutes County, OR;
3. Ocean County, NJ (Jersey Shore);
4. Barnstable County, MA (Cape Cod);
5. Fairfield County, CT;
6. Essex County, NJ;
7. Monmouth County, NJ (Jersey Shore);
8. Riverside County, CA (Palm Springs);
9. Cape May County, NJ (Jersey Shore);
10. Placer County, CA (Lake Tahoe);
Top 10 Counties Cooling Off
Meanwhile, a majority of the bottom 10 counties are home to dense, relatively expensive cities, including New York, San Francisco and Boston.
Queens County, NY ranked first on the list of U.S. housing markets that are cooling down, followed by Kings County, NY (Brooklyn) and Bronx County, NY (the Bronx). All three are in New York City, which saw a greater net outflow of Redfin users than any other metro area during the third quarter.
Hudson County, NJ, also in the New York City metro, made it into the bottom 10 as well. Located just across the Hudson River from Manhattan, the area has long been a popular home base for families who want to be close to New York City without New York City prices.
But now that remote work has become the norm for so many people, a lot of homebuyers are pushing further south into New Jersey, to places like Monmouth County and Ocean County, Redfin agents say. Suddenly, they're realizing that it's no longer necessary to pay top-dollar for crowded buildings with shared amenities that are close to the city.