How to address the mobility challenges of megacities? Here are some possible answers…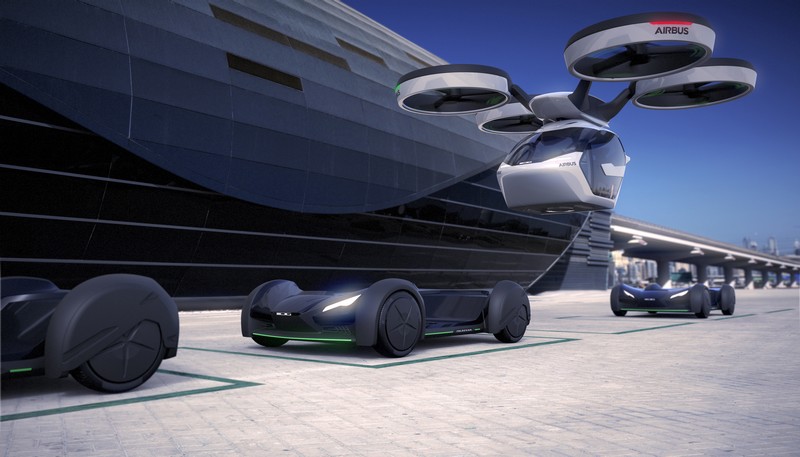 With traffic congestion projected to hugely increase by 2030, Airbus x Italdesign decided to combine their engineering expertise to tackle how to best achieve a sustainable, modular and multimodal urban mobility system – giving rise to the Pop.Up concept.
Pop.Up is the first modular, fully electric, zero emission concept vehicle system designed to relieve traffic congestion in crowded megacities.
Airbus Pop.Up vehicle combines the flexibility of a small two seater ground vehicle with the freedom and speed of a vertical take-off and landing (VTOL) air vehicle, thus bridging the automotive and aerospace domains.
At the heart of the concept is a capsule: designed to accommodate passengers. This high-tech, monocoque carbon-fibre cocoon measures 2.6 metres long, 1.4 metres high, and 1.5 metres wide. The capsule transforms itself into a city car by simply coupling to the ground module, which features a carbon-fibre chassis and is battery powered.
For megacity journeys with high congested traffic, the capsule disconnects from the ground module and is carried by a 5 by 4.4 metre air module propelled by eight counter-rotating rotors. In this configuration, Pop.Up becomes a urban self-piloted air vehicle, taking advantage of the third dimension to get from A to B efficiently whilst avoiding traffic congestion on the ground.
Once passengers reach their destination, the air and ground modules with the capsule autonomously return to dedicated recharge stations to wait for their next customers.