At this year's EBACE show, Airbus Corporate Jets and the Italian hypercar Atelier Pagani Automobili announced a new cabin design for the ACJ319neo, called Infinito. Pagani's design team created the initial Infinito design, including its look and feel, while Airbus Corporate Jets' designers contributed their experience in aircraft design and compatibility.
A key feature of the Infinito cabin is its sky ceiling, which can bring a live view of the sky above the aircraft into the cabin – or display other images. This creates even more of a feeling of airiness and space, truly living up to the name Infinito, which means infinity in Italian.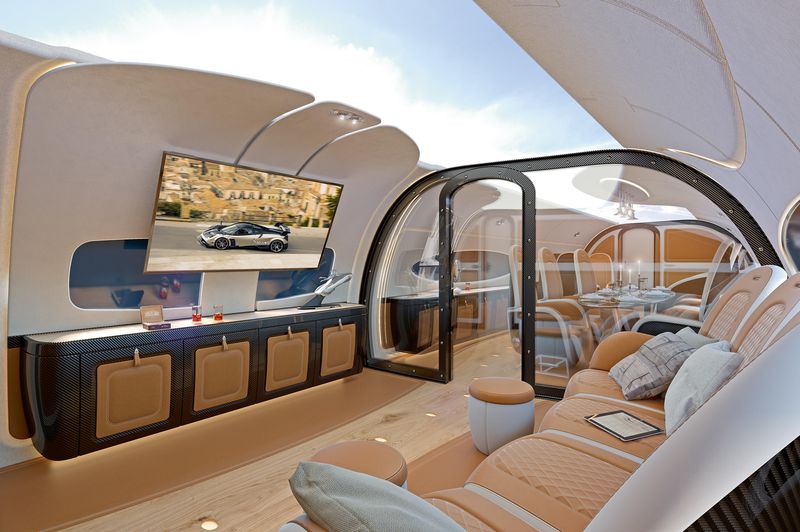 Airbus' ACJ320 Family already has the widest and tallest business jet cabin, while being similar in size externally, and Infinito builds on this for even more of a passenger-pleasing experience.
"The combination of state-of-the-art composite materials never used before in an aircraft, such as CarboTitanium, with the typical design language of Pagani Automobili, has always represented our signature. Applying our Reinassance touch into the wider spaces of Airbus corporate jet cabins is the beginning of an exciting new venture for us," says Horacio Pagani, founder & Chief Designer of Pagani Automobili SpA.
"In bringing together the best of the supercar and business jet worlds, we enable an elegant and seamless link for customers of both, while bringing a fresh approach to cabin design and satisfying very demanding standards," says Airbus Corporate Jets Managing Director Benoit Defforge.
Curves inspired by nature form a pathway through the cabin, as well as featuring in the shell-shaped valances and walls between zones – including one between lounge and conference areas, which switches from opaque to transparent at the touch of a button.
Décor is reminiscent of that gracing Pagani hypercars, with natural soft-leather carpets and a wooden floor contrasting with man-made carbonfibre in furniture and wall-frames – echoing the combination of art and science originally espoused by Leonardo da Vinci.
Sculpted metal features, mirroring those found in Pagani hypercars, feature in light-fittings and other details, while light-emitting diodes (LEDs) enable different mood-lighting ambiances.
At the 2017 Paris Air Show, which runs from 19th to 25th June 2017, Airbus will showcase its wide range of innovative technologies, products and services, from market-leading commercial and military aircraft to helicopters and space systems. In addition, there will be a new Digital Exhibition zone at the Airbus pavilion, where traditional mock-ups give way to the latest digital immersive and interactive display technologies to convey an improved experience of Airbus' products and services, in life-like virtual reality scenarios.
In the static display areas, visitors will see a plethora of Airbus' real operational and development aircraft. Notably, this year's show will mark the first time that Airbus publicly showcases in a flying display the A321neo (now entering airline service) and also the latest member of the A350 XWB family – the A350-1000 – which is currently well into its certification flight-testing phase. The A380 will also feature in both the static and flying displays.