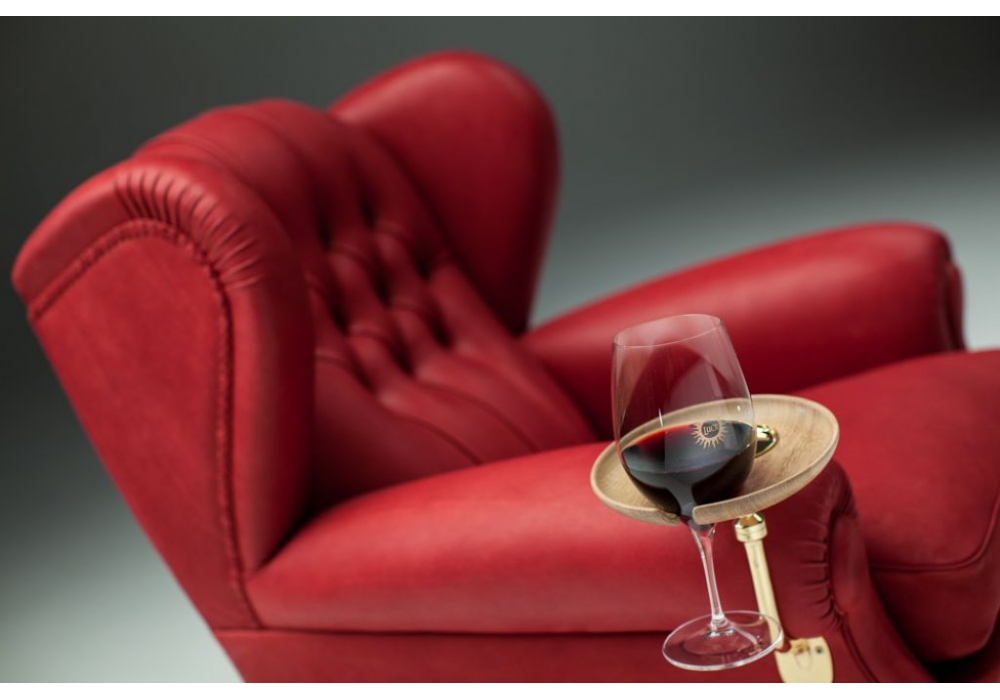 Italian luxury furniture company Poltrona Frau collaborates with acclaimed Montalcino winery Luce della Vite on the 2013 "Casa di Luce" project.
"Pausa di Luce" is the armchair produced by Poltrona Frau for Casa di Luce, a project conceived by Lamberto Frescobaldi in 2009 to celebrate the exclusive and elegant style of this great wine with strictly Italian-produced creations that are inspired by Luce and which strengthen its personality, unique style and prestige."Pausa di Luce" is the special edition of the "1919", an authentic Poltrona Frau icon designed by Renzo Frau in 1919, created ad hoc by Poltrona Frau especially for Luce.
This limited edition piece is upholstered in the special Pelle Frau® Century Luce leather that has been dyed an intense shade of red, like the nuances of Luce. A cup holder in natural oak, the same material used for the barrels that contain Luce during the aging process, has also been added to the iconic chair along with a personalized and numbered brass plate and a gold button on which to engrave the initials of the client.
The "Pausa di Luce" armchair is available only on request in a select number of Poltrona Frau showrooms in Italy (Milan and Rome), Asia (Tokyo, Taipei, Hong Kong and Shanghai) and the US (New York, Miami and San Francisco).
The partnership between Luce and Poltrona Frau, which celebrated its centenary last year, is based on a series of shared values such as artisanal tradition, knowhow passed down through the generations, manual expertise and creative genius.
It is this artisanal attention to detail that makes both the wine and the armchair unique and perfect: 9 m2 of leather is required for each 1919 armchair together with 17 metres of twine, 90 metres of yarn for stitching, 12 buttons, 32 springs, 320 leather nails, and 22 hours of processing. Similarly, each bottle of Luce is the product of 8 m2 of soil, 2 Sangiovese and 2 Merlot plants, 500 hours in the vineyard and another 500 in the cellar, 100 analyses and 150 tastings and over 30 months of aging to guarantee 20 years of longevity.