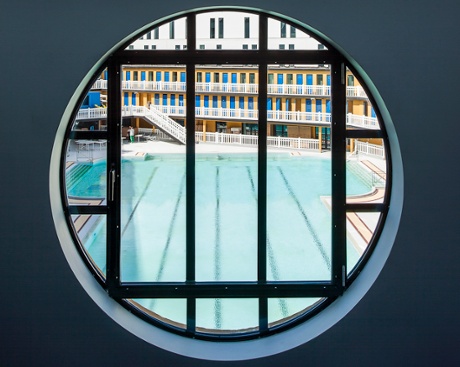 ---
This article titled "Piscine Molitor: renaissance of a Parisian art-deco masterpiece" was written by Rooksana Hossenally in Paris, for theguardian.com on Sunday 18th May 2014 18.41 UTC
Built almost a century ago, the art-deco Piscine Molitor in the 16th district of Paris is no ordinary swimming pool. It was here the first bikini was unveiled and the topless sunbathing revolution took off, and it is after this swimming pool that the main character in the 2001 novel Life of Pi was named.
In its heyday, between the world wars, Molitor was the most fashionable place to be seen. By 1989, however, this French icon was slated to be destroyed and replaced with apartments. The project never actually saw daylight, but Molitor was closed down anyway and instead became a hallowed space for Parisian subculture, adorned by graffiti artists and ravers alike.
Now, 25 years on, Molitor's indoor pool and lido complex has been given another life, reopening on Monday as part of a luxury hotel and spa. The 50-metre lido and 33-metre indoor pool have been completely renovated, with the indoor pool remaining the heart of this unique construction.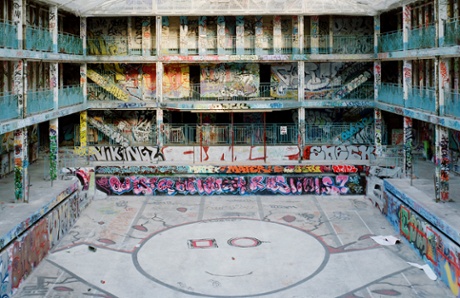 "Molitor is a legendary place for Parisians," says designer Jean-Philippe Nuel, who was commissioned to renovate Molitor's interiors. "I've met people who know Molitor for different reasons: some for its days as a swimming pool, others for its years as a hub for graffiti, and it's this complexity that I love because it resembles us – we each have multiple facets. Molitor is a fascinating character."
Inaugurated in 1929 by Olympic swimmers Aileen Riggin Soule and Johnny "Tarzan" Weissmuller, the lido was the place to be seen in summer, with its golden sand and colourful parasols, and also in winter when it became an ice skating rink. Fashion shows and galas were attended by a host of celebrities including French actress and singer, Mistinguett. It was also at Molitor in 1946 that the first bikini, worn by the Casino de Paris dancer Micheline Bernardini, was shown off in France.
With its gleaming white railings and porthole windows, Molitor was nicknamed the "white cruise liner". But after its abandonment in 1989, the ship became a wreck of faded glamour and cracked cement – and a giant canvas for graffiti artists, who took full advantage.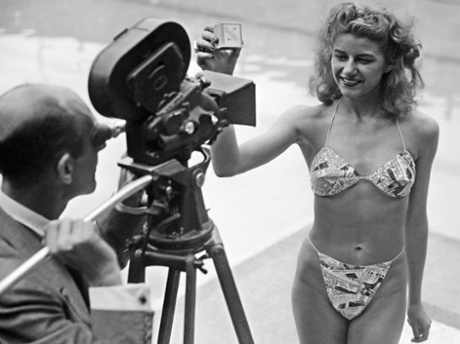 The generous wall space and unusual architecture provided the perfect playground for well-known graffiti crews including HEC and TPN, and played a huge part in the development of street art in Paris. In 2001, the collective Heretik organised a rave, which more than 5,000 people attended, contributing to Molitor's reputation as the centre for underground art culture.
Local residents have long felt the art-deco classic was becoming an eyesore, and the community association SOS-Molitor, which in 1994 became Piscines Molitor, has fought for the rebuilding of the swimming pools since its closure. But when, in 2007, a 54-year lease was issued to developers Colony Capital, whose hotel and health farm style project had won a tender call for Molitor's redesign, the locals, especially the older generations, were worried about the renovation.
"We would go to Molitor every Saturday throughout the summer – it's where I met my husband Gérard," remembers 86-year-old local resident, Janine Marvins. "It was very sad when they closed it down. I wasn't too sure about the renovation. I thought they might take away its soul."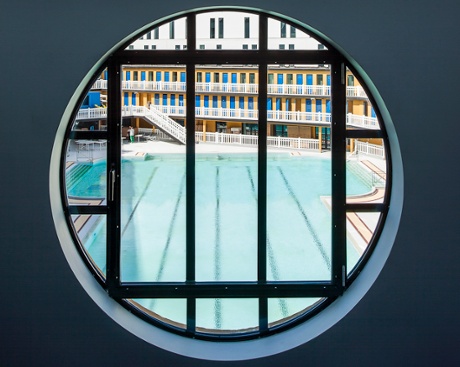 Molitor is now a 124-room MGallery hotel with spa, gym, bar and restaurant. Critics have questioned the change in Lucien Pollet's original façade; the bright yellow section on the Stade Jean-Bouin side of the complex is its only surviving part.
Inside, Nuel maintains, "We tried to conserve the dialogue between past and present. For example, in the lobby under the original two-metre high ceiling (now mirrored) is a Rolls Royce bought by Eric Cantona, tagged by the American graffiti artist JonOne." The mosaics, blue doors on the cabins, stained glass adorned with motifs of swimmers and green railings are some of the remaining original features.
However much of the Molitor soul has survived the renovation, it is only the hotel guests and health club members who will have access to its legendary pools. For everyone else, the unique, bustling atmosphere of this architectural masterpiece survives only in the collective memory.
Report: Life in a Paris storage cupboard
guardian.co.uk © Guardian News & Media Limited 2010
Published via the Guardian News Feed plugin for WordPress.