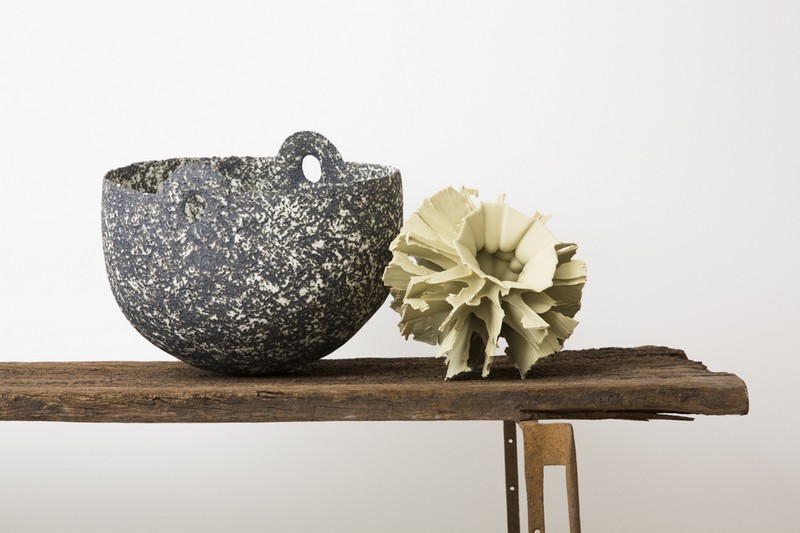 Officine Saffi, the leading Italian contemporary ceramic gallery and the experimental hub dedicated to ceramics, participated in the second edition of the London Craft Week. At the prestigious annual event dedicated to excellence in artistic craftsmanship, Officine Saffi presented a selection of works by 4 international artists, three of which, Kati Tuominen-Niittylä, Zsolt József Simon and Luca Tripaldi use ceramics as their preferred medium of expression, and Sergio Sangalli, an Italian wood craftsman who creates functional objects with a unique design reassembling recycled materials including wood, to give them a new lease of life and utility.
The exhibition, which was organised from 3rd to 7th May in the Belgravia Gallery temporary space at no. 23 Maddox Street, aimed to provide an indication of trends in contemporary art and artistic crafts, anticipating future developments.
The works by Kati Tuominen-Niittyylä (Helsinki, Finland, 1947), Zsolt Simon (Celdomolk, Hungary, 1973), Luca Tripaldi (Turin, Italy, 1969) and Sergio Sangalli (Monza, Italy, 1967) represented a profound technical research, resulting in very diverse works combining technical experimentation and creativity. Works that straddle art and design, which are both disparate yet complementary, and which provide a fascinating perspective on the wider contemporary scene in ceramics and design.
The minimalistic but profound ceramic works of the Finn Kati Tuominen-Niittylä accompany the non-finite forms of Zsolt Simon, unique examples which analyse spatial energy with their biomorphic references. Luca Tripaldi, an artist from Turin who mainly experiments in creating contemporary jewellery, presents his new collection of porcelain and resin, based on a personal and contemporary process of Kintsugi in which the artist breaks the original porcelain jewel to reassemble it with resin. In this continual practice of creating, breaking and then recreating, Tripaldi produces unique jewellery, a result of the random breaking process.
The works on display were accompanied by a selection of works by artists from the Officine Saffi Gallery, presented exclusively for 2016 London Craft Week.
Officine Saffi is a cultural organization based in Milan. Its audience comprises artists, designers, architects, ceramists and everyone interested in ceramics and art.
The project consists of the Art gallery, for exhibitions with works by international artists, the Workshop for courses, also used for for artists' residencies and production by artists and designers, and the Publishing Company that produces art catalogues and the quarterly magazine La Ceramica in Italia e nel mondo (www.laceramicainitalia.com). Part of Officine Saffi's mission is the Open to Art International Competition, dedicated to Art Ceramics and Design Ceramics. Through its operations, Officine Saffi represents a point of reference for international ceramics, with a mission to enhancing the significance of ceramics in the areas of art, design and architecture.