Sbe opens its first hotel in the Middle East in Doha, Qatar.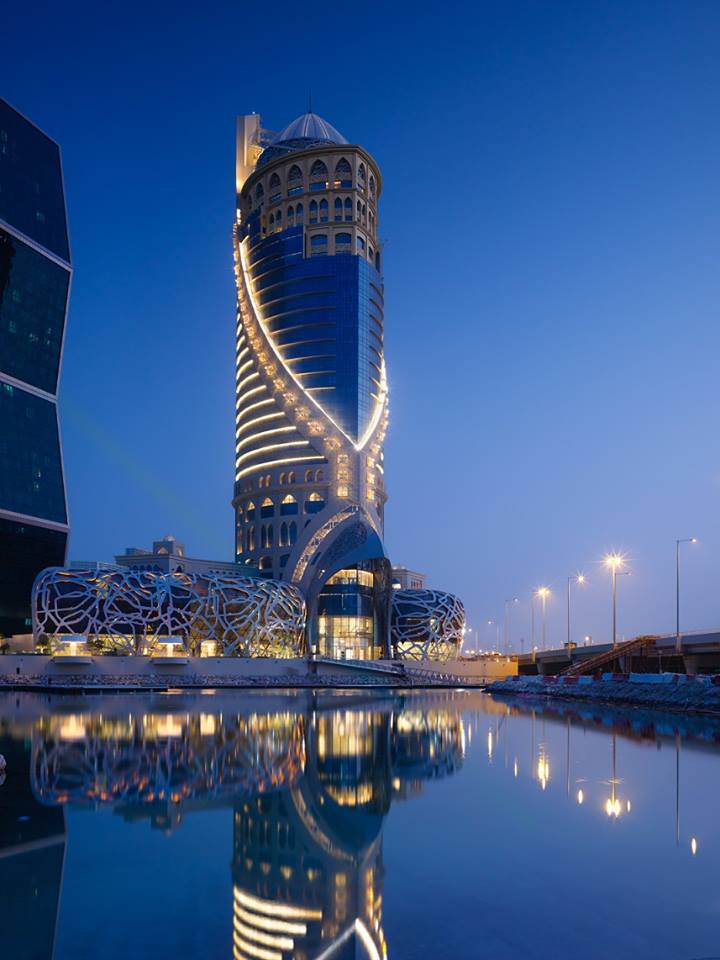 Doha leading hospitality company sbe, has announced the opening of Mondrian Doha, Qatar. The eye-catching hotel offers exceptional lifestyle with 270 rooms, designed in collaboration with world-renowned Dutch designer Marcel Wanders and South West Architecture.
The hotel provides a fantasy-like environment, true to the Marcel Wanders design and sbe ethos. It offers five distinctive room categories including penthouse suites, studio suites, one and two bedroom suites and a range of standard guestrooms.
In addition to 270 rooms and suites, Mondrian Doha features eight innovative bars and restaurants featuring both regional and international cuisine, an indoor/outdoor rooftop pool bar, ultra-modern meeting and conference venues and a world class spa.
"We are delighted to have successfully morphed Marcel Wanders' vision into the architecture and design of the Mondrian building," said Adnan Azrak, Chief Developer of Mondrian Doha, on behalf of South West Architecture.
"Located on the 23rd floor of the property, the penthouse suite offers incredible attention to detail combined with panoramic 360-degree views of Doha's landscape. Throughout the hotel, Wanders' signature floating staircase and hand-painted One-Minute Delft blue vases set a striking and sophisticated atmosphere, while locally-inspired features such as custom-designed Dean Majilis sofas and a"cabinet of information", connects guests with the fascinating history and culture of the region, " commented qatar- tribune.
THE PENTHOUSE at MONDRIAN DOHA
Located on the 23rd floor, our Penthouse Suite takes you to the old Arabic tales with an authentic approach to modern-day design.
Wanders' iconic "Floating Staircase" and the hand painted "One-Minute Delft" blue vases set up a striking atmosphere with sophisticated touches. Custom-designed by Marcel Wanders, this two-story Penthouse offers incredible attention to detail with its locally-inspired features within the room, such as a sculptured carpet that is intended to reflect the Qatari desert, falcon designs within the walls and custom furniture including Dewan Majilis sofas, dark wooden foyer doors and a "cabinet of information" that offers details on the fascinating history and culture of the region.
Both iconic stairs and a lift connecting their two floors and guests have access to butler/chef/maid room on the ground floor. Enjoy spectacular panoramic 360-degree views of Doha throughout the spaces, which include a living room, one master king bedroom and two twin bedrooms, a dining room and entertainment room.
Play a round of pool on the pool table or entertain your guests on your own piano as you soak in the dramatic views.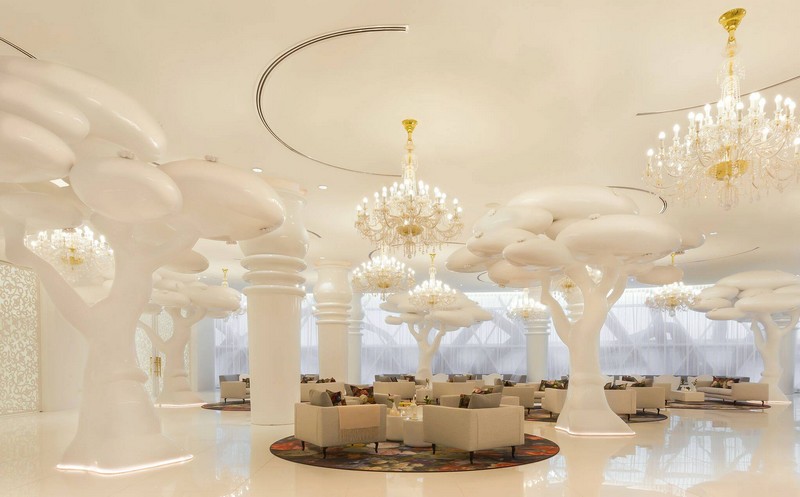 EXTRAVAGANT WEDDINGS
Mondrian Doha's spectacular 2,000 square meter ballroom space is the perfect place to host an extravagant wedding and can be customised according to your taste. Full-length curtains in gold, red maroon and royal blue combine with the impressive crystal chandeliers to create a sense of luxury for your special day. The ballroom is directly connected to the Opal Suite by a one-of-a-kind 24K gold-sculpted caged elevator and a gleaming marble suitcase with golden handrail, allowing the bride to make her grand entrance in the most glamorous way possible.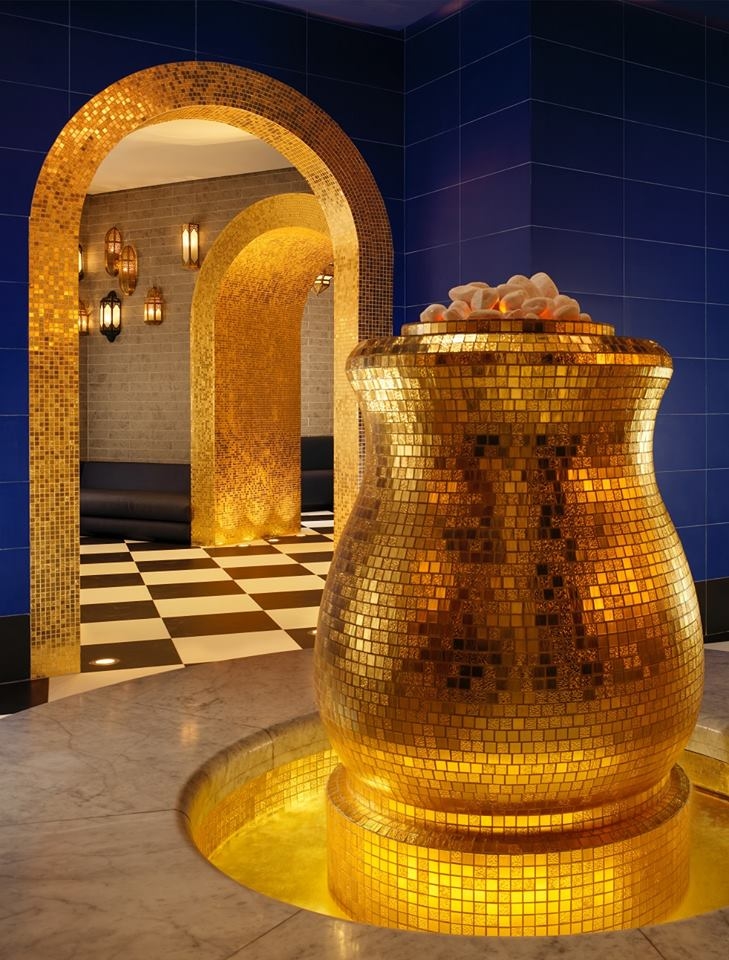 ESPA
ESPA at Mondrian Doha delivers an unforgettable wellness experience hidden in a "Secret Garden". Shimmering mosaic walls lead guests to the 12 treatment rooms, a heated experience garden, relaxation rooms and our traditional Turkish Hammam.