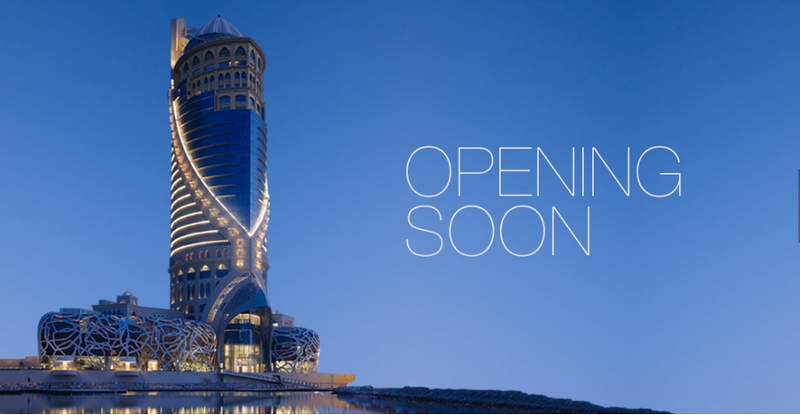 Doha's best new lifestyle hotel soon to open its doors in 2017! Each day here promises to offer enlightening scenes from the iconic lobby arrival or from the mesmerising stained glass dome skylight on the 27th floor.
Mondrian Doha, opening soon, brings the up-all-night intensity, energy and Sunset Strip vibe of the original Hollywood Mondrian to the West Bay Lagoon neighborhood of Doha, capital city of Qatar. The building was conceived by renowned Dutch interior designer Marcel Wanders and lifestyle hospitality company sbe as a falcon, an important national symbol for Qatar, that sits atop its nest.
The lavish 270-room Mondrian Doha hotel is set to be an exceptional lifestyle offering for the destination when it opens at the end of quarter two, 2017. The address becomes sbe's first hotel in the Middle East as well as Marcel Wanders' first hotel for the region.
The details of the extraordinary design of Mondrian Doha were unveiled during 2017 Milan Design Week. The preview of Mondrian Doha and its highly-anticipated design aptly took place during the world's biggest design fair, Salone del Mobile, happening in Milan last week.
The hotel will offer eight restaurants and bars, a nightclub zone, expansive ballroom and rooftop pool and bar, complete with stained glass dome.
The largest in the region, the ballroom is an elegant, transformable space that can be adapted to suit every occasion, from lavish weddings and award ceremonies to larger functions and presentations. Brides can enjoy the most glamourous of entrances with the use of an incredible 24 carat gold sculpted caged elevator which links the secret bridal suite directly to the ballroom.
Marcel Wanders commented: "For the design of Mondrian Doha and everything we do, locale is super important. To create the hotel, we studied the city, we studied the people. We don't create interiors, we create destinations and Mondrian Doha is a destination in itself that needs to be discovered. We invite people to join us on the journey through to the hotel, it is a journey that has no end. Stepping into Mondrian Doha begins the first chapter of a wonderful story that unfolds and presents surprises around every turn."
The rooftop pool and bar, Rise, is a city of its own, created with black and white bricks and offering an abundance of natural light which shines through the stained glass dome to create rays of coloured light. Modern technology has allowed the pattern of a peony tiffany lamp to be printed on the skylight glass, making it the largest tiffany lamp in the world. Under the colourful sky of the glass dome is the black and white city below; the pool area, which houses luxury wooden and crystal lamps, white leather seating and wooden sunbeds.