The socializing dimensions of food, creativity and shopping is brought to a single space.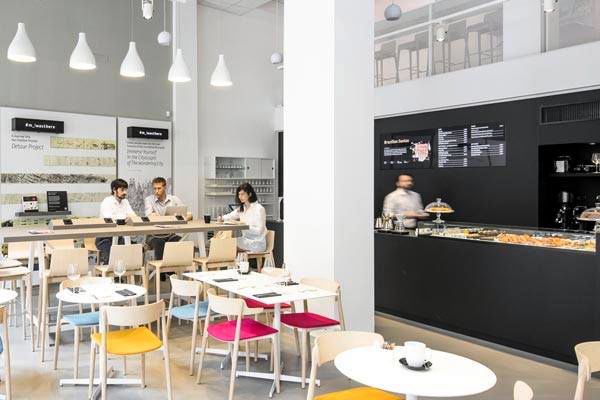 For our daily fix of inspiration, Moleskine reinterprets the idea of the café littéraire in a very contemporary mood. The newly-opened Moleskine Café Milano is a mix of a café, art gallery, store and library. Accoring to Moleskine, the space at Corso Garibaldi 65 in the Brera Design District of Moleskine Company's hometown, Milan "supplies energy to boost creativity as well as space for deep thinking and relaxation." The new café in Milan is the first to be centrally located and follows the success of the pilot Moleskine Café in Geneva Airport. The new Cafè format will surely be replicated in global cities worldwide.
According to Moleskine, the company aims to become the "lifestyle brand of the Creative Class."
"I believe this vision fully reflects the growing interest people show for retail formats that go beyond the sheer act of shopping and I look forward to validating this concept for global expansion," commented Arrigo Berni, CEO of Moleskine.

The two-level layout reflects the purpose of the café: somewhere to be energized and stimulated by coffee, culture and conversation (ground floor) while at the same time finding relaxation and silence to un-plug, read and create (the mezzanine, sofa area). Just like the iconic Moleskine notebook, that was inspired by the notebooks used by the avant-garde artists of the last century, the Moleskine Café revisits an idea from the past. There is a strong connection to the Enlightenment-era literary cafés, unofficial public spaces where conversations were held about the important ideas of the time that became hubs of cultural, artistic and political life in Europe's great cities.
A special section of the café is dedicated to exhibitions, focusing especially on the early stages of the creative process. Sketches, notes and doodles created by established and emerging architects, designers, illustrators, business innovators and film directors are the starting point for a series of on-site exhibitions, where the creative process is revealed as it develops, as if browsing through the pages of a notebook. Collections of original sketches by established authors including international archistars like Cino Zucchi and Kengo Kuma, renowned illustrators like John Alcorn and fashion designers such as Salvatore Ferragamo are among the first exhibitions in the calendar.