The Moleskine team invited designers from the "Mash-Up" project to use the notebook cover as their canvas to create a new Limited Edition Collection: Coca-Cola bottle's 100th Anniversary on Moleskine.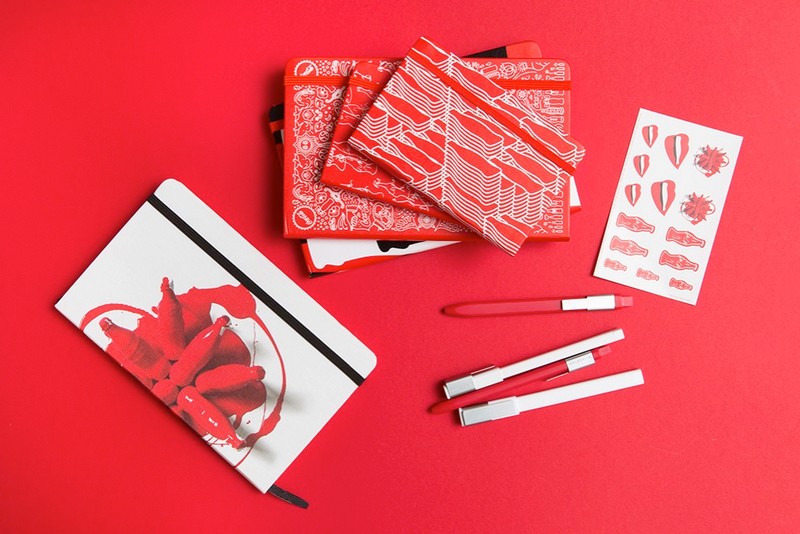 Moleskine joins artists, designers and illustrators from around the world to participate in the Coca-Cola "Mash- Up" project for the 100th Anniversary of the iconic Coca-Cola contour glass bottle. The result is five representations of the iconic bottle on the front of the legendary notebook.
In addition to the Collection, Moleskine also invited German director/producer Tilman Singer to provide a short film exploring the notebook and iconic bottle.
American designer David Schwen created a photographic representation of eight bottles arranged in a pinwheel formation, dripping with fresh Coca-Cola Red paint. This image is stark on a white, hardcover canvas notebook. Available only through Moleskine Stores online and at Moleskine Retail Stores worldwide, it is printed in a limited run of 5,000.
The other covers are different illustrations of the bottle. Designers are Matt Allen, Chris Weston (for people design), Hitomi Watanabe and Iku Oyamada (HI(NY) design) and a team for Ogilvy & Mather Paris.
All Coca-Cola 200 mashup posters can be found on Instagram.