BAC launched Marine Edition Mono easy winching onto a luxury yacht.
Completely customizable inside and out to compliment the colour scheme of your yacht.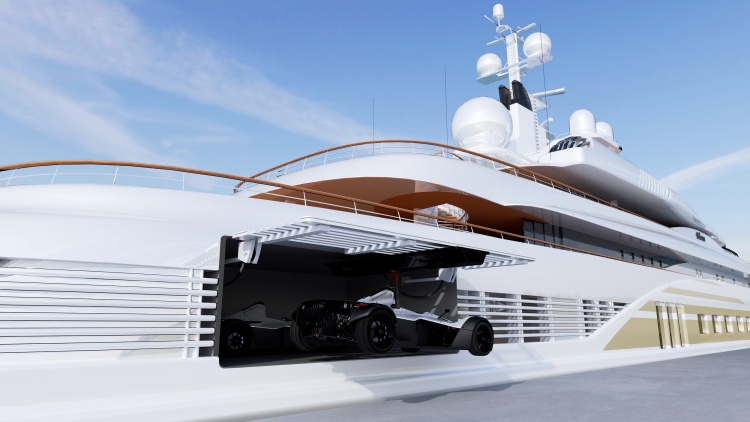 Luxury British carmaker BAC, the automotive company known as a unique British brand in the top tier of the global luxury market, unveiled its latest iteration of the popular Mono – The Marine Edition. Built-to-order, the luxury BAC Marine Edition Mono is based on popular single-seater Mono supercar, powered by 305bhp 2.5-litre Mountune engine.
Weighing only 580kg this ultra-lightweight supercar built to order at £500,000 is powered by a new 305hp normally aspirated engine delivered through a Hewland FTR gearbox, as found on current F3 race cars. Awarded Stig's Car of the Year, Mono boasts a 0-60mph time of 2.8 seconds and a top speed of 170mph. Marine Edition comes complete with a carbon-fibre crane arm designed for Mono and to be used with all yacht crane systems.
Launched in collaboration with yachting company Camper & Nicholsons, the 'Marine Edition' will feature anti- corrosive ultra-high specification components to keep the car protected in salty climates, proprietary lifting system for safe and easy hoisting, an Environmental Control Container System for on board storage in climate- controlled environment, and bespoke interior and exterior design custom suited to yacht styling and owner preference, announced the ultra-luxury manufacturer.
"I have always wanted to combine my love of marine and automotive design. The 'Marine Edition' Mono represents the ultimate drive-and-arrive experience with great purity of purpose and style," commented BAC co-founder Ian Briggs.
With a new dedicated factory in Liverpool, BAC is able to produce four cars per month.
"Today's super-yachts are paragons of exquisite taste, exceptional design, and the ultimate experience possible. It is only fitting that owners should be able to extend that experience beyond the vessel upon arrival," said Andrew Whitney, Director of Strategy & Corporate Development at BAC.
"The Marine Edition Mono is uniquely qualified, with unparalleled design, performance and driving sensation, while its low mass of only 580kg allows vessels to carry even a brace of Monos for a little over a ton. What better way for friends to arrive?"