A new showering experience has the power to transport the bather to the center of a summer rainstorm.
For this year's Milan Design Week, Kohler has created a lush oasis against the backdrop of the Museo Bagatti Valsecchi's Italian Renaissance collection for an exhibit of some of its most artistic bath products.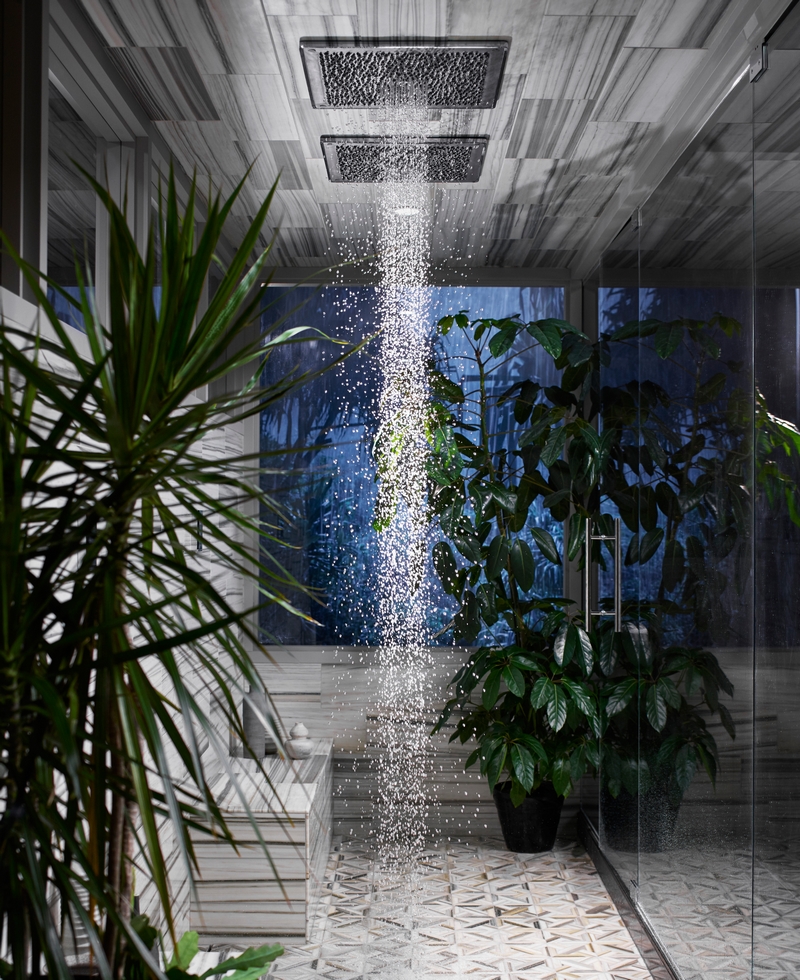 The presentation in the historic home included the worldwide debut of Kohler's Real Rain experience, a new showering panel that perfectly portrays the feel of raindrops. The ceiling mounted panel's patented construction takes high-tech showers to another level of sophistication, simulating an authentic rain shower experiences for the user. The shower is designed with a water reservoir that relies on gravity rather than the typical pressurized spray to shape the water droplets, using 775 concave nozzles to start the feeling of a cloudburst – beginning slowly and then building to a deluge – if desired.
Exhibited in the museum's Loggia, the open air space enhanced the sight and sound of Real Rain's free fall of water. The architectural arches and columns in the gallery's background demonstrated just how elegant the Real Rain blends in with either traditional or contemporary interiors.
Additionally, the museum's Grand Salon featured an interior wall of Shagreen sinks rising from a vertical green garden designed by Milan-based landscape architect Derek Castiglioni. Here, the textured appearance of pebbled leather is finished in the color options of Ebony Pearl and Oyster Pearl, weaving together the beauty of sea life with manmade artistry.
The latest from Kohler's Artist Editions collections, these vessels adapt the global Shagreen trend to an otherwise unexpected interiors feature.
Last October, Kohler Co. has earned its fourth Sustained Excellence Award from the Environmental Protection Agency (EPA).
In 2008, the EPA named Kohler the first recipient of its WaterSense Manufacturer Partner of the Year Award. In each year since, Kohler has earned additional recognition from the EPA, including the agency's first Sustained Excellence award in 2013.
"Kohler has encouraged water conservation since the 1970s," said Rob Zimmerman, Director-Marketing, Sustainability. "Receiving recognition from the EPA year over year demonstrates our continuing commitment to water-saving initiatives, consumer education and product innovation."
Since the first WaterSense-labeled KOHLER products were introduced, those products have empowered consumers to reduce water use by over 110 billion gallons and save over $1.3 billion in water, sewer and energy costs. The labels make it easy for consumers to identify and purchase products that save water while maintaining the performance excellence and sophisticated design for which Kohler has long been renowned.