A new incarnation of bike polo was born – LV polo bike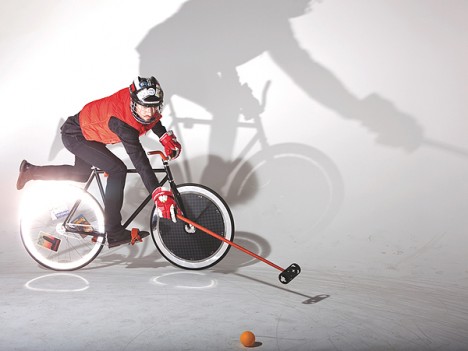 Louis Vuitton teamed up with polo bike players Hannes Hengst and Grégory Barbier to produce a branded Polo Bike, where unique craftsmanship is essential.
"From the embossed leather pedal straps and mallet holders, to the machined chainring (by Victoire), etched barplugs, via the leather wheel cover, culminating with a spectacular hollowed out mallet head, attached to a fully wrapped shaft. All of it using the classic Vuitton patterns and shapes, " Louis Vuitton said about its new polo bike.
The first bike polo on record was in the 1890s in Ireland, on a traditional polo field.  The sport soon spread to North America and was played in leagues in along the Atlantic seaboard.  But with the First World War and the rise of the automobile, cycling culture waned and bike polo along with it.
In the late 1990s, a group of bike messengers in Seattle started messing around with a ball and some homemade mallets, and a new incarnation of bike polo was born.  Played on roofs, parking lots and tennis courts, this incarnation spread slowly through the bike messenger scene, picking up steam with the explosion in popularity of fixed gears and single speeds. It was christened with the name "hardcourt bike polo" in 2007.  Eventually the sport eclipsed the bike messenger alleycat circuit, and it is now played in 300+ cities in over 30 countries, says laageofbikepolo, with hundreds of tournaments being held every year.