The Bodega Numanthia barrel by LOEWE. Two Spanish houses united in craft.
Bodega Numanthia, a veritable emblem of the Toro region wines in Spain, and Loewe are two Spanish luxury houses that have joined forces to create a unique barrel of Termanthia, the iconic wine of the Estate. The 225 litre barrel, equivalent to 300 75cl bottles, is crafted from French oak wood and will be covered in Loewe leather.
Available on demand, this exceptional barrel will be delivered at the buyer's home as of December 2018 along with the finest wine from Bodega Numanthia, the 2016 Termanthia – bottled in 75cl, 150cl, 5L or 12L formats according to the preference of the future owner. Crafted from 140 years old vines, the 2016 vintage of Termanthia is patiently ageing in the cellars of Bodega Numanthia and already promises extraordinary fruit concentration, remarkable freshness, intense structure and exquisite balance.
"The Bodega Numanthia barrel by Loewe is a tribute to the Spanish craftsmanship, savoir-faire and audacity. Together, we have reinterpreted a core symbol of winemaking, the barrel, a Collector piece, in an unprecedented style." says Jean-Guillaume Prats, President & CEO of The Moët Hennessy Wine Division.
Located in Valdefinjas, Castile and León, in the Northwest of Madrid, Bodega Numanthia is a Spanish winemaking brand. Firmly rooted into Spanish history and terroir, the Estate is the birthplace of powerful and intense wines, the incarnation of the prestigious Designation of Origin Toro. Spain is also the cradle of Loewe and remains the brand's home. The heart of Loewe still beats in Madrid, where its world-renowned leather goods continue to be made.
Future owners of the Bodega Numanthia Barrel by Loewe will be offered the unique opportunity to personalize their barrel with a selection of Loewe calf leather, available in five different tints, specially chosen by the house, and will have their own initials to be appended on the barrel using the art of leather marquetry, a technique requiring extreme precision.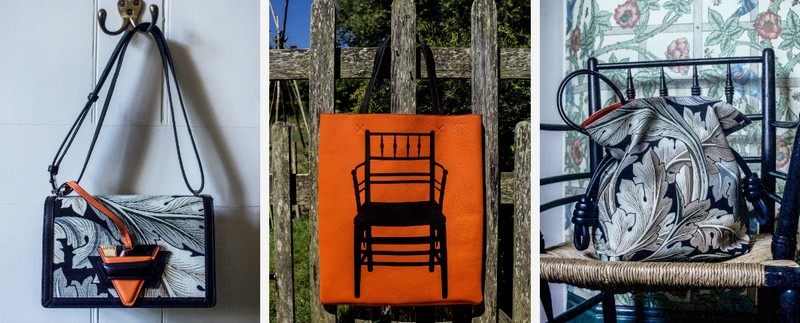 William Morris meets punk & Loewe
Loewe also presented a new capsule collection inspired by the work of legendary British textile designer, artist, and writer William Morris (1834 – 1896).
This capsule collection features four striking prints from the Morris & Co. archives. With a reoccurring bright orange theme and  series of bleached denim, the classic vocabulary of the prints is clashed with the essence and aesthetic of punk.
These original prints are featured on some of the brand's most popular accessories and bags including the Puzzle and Hammock  bags, in addition to scarves, brooches, bag charms and backpacks, as well as on a broad range of mens – and womenswear  pieces.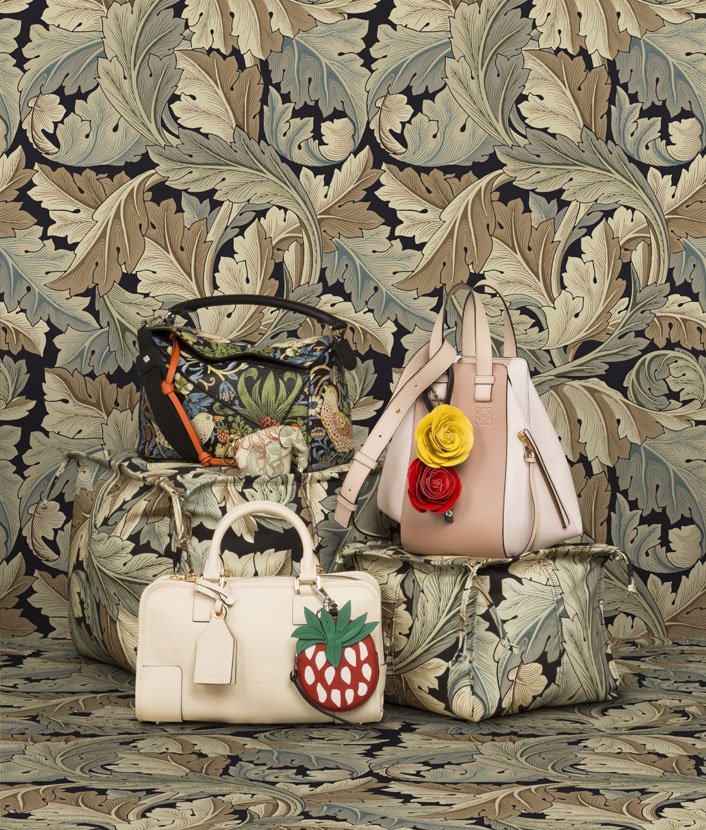 images: loewe; bodega numanthia.