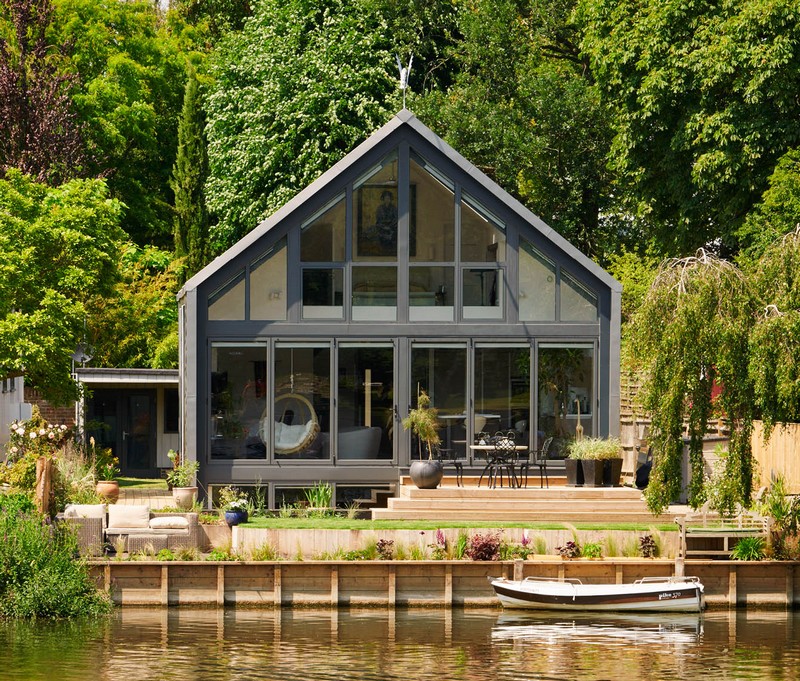 ---
This article titled "'Like a shimmering sea creature': Britain's first amphibious homes" was written by Oliver Wainwright, for theguardian.com on Tuesday 2nd February 2016 14.35 UTC
The wise man built his house upon the rock – not upon the flood plain. But the UK housebuilding industry seems to have skipped that particular Sunday school lesson: Britain is building houses in the highest-risk flood areas at almost twice the rate of housing outside flood plains – up to 20,000 new homes are likely to be built in areas of flood risk this year alone. Most won't be hoisted up on stilts or shaped like boats, ready to bob up and down as the waters rise, but built in exactly the same way as the houses recently devastated by the wettest December on record.
The unlikely trio of storms Desmond, Eva and Frank brought havoc to more than 16,000 homes, cutting off 75,000 more from electricity and causing an estimated £6bn worth of damage. Seeing Yorkshire and Cumbria transformed into scenes from Waterworld, only with flat caps and wellies rather than animal skin capes, might have been mildly thrilling for the TV helicopters, but it was surely a sign that we should be constructing bigger flood barriers and building new homes on ever higher ground.
Not necessarily so, according to Robert Barker and Richard Coutts, founders of Baca Architects, who have spent the past decade dedicated to developing building strategies that can work with water, rather than against it, and whose thinking has resulted in a timely new book, Aquatecture.
"Conventional wisdom has always been about running away from water and building big barriers to defend against the risk of flooding," says Barker, sitting in Baca's south London studio, where the walls are plastered with watery-blue images of projects planned for the edge of rivers, lakes and seafronts. "But with rising sea levels and increasing flood risk, we're going to have to learn to embrace water and use it to our advantage."
Around 6m properties in the UK are at risk of flooding, and there are plans for many more to be built on the flood plain, for the simple reason that it's where our towns and cities have historically developed. Settlements have always grown up around the infrastructural arteries of rivers, canals and docks. On top of which, flood plains are usually flatter, so easier to build on. "People also like to live close to water," says Coutts. "The appetite for waterside living has never been bigger, so the perceived threat of rising water levels can be turned into a benefit."
The duo recently completed the first physical demonstration of their thinking in the form of an "amphibious" house on an island in the Thames, near Marlow in Buckinghamshire, that is designed to float up with the rising water in the event of a flood. Clad in a scaly skin of zinc tiles, like some shimmering sea creature, with full-height windows looking out on to the river, the house has a nautical secret hidden in the basement.
"It's basically like the hull of a ship," says Coutts. "The buoyant concrete base sits in a wet dock, which has a permeable concrete bottom, so as water comes in, the whole house floats up with it." Guided on four fixed steel posts known as "dolphins", the house can rise up to 2.5 metres, well above the projected future flood levels for the area. Services are fed in through flexible pipes, to avoid the building becoming unplugged as it floats up. The garden also acts as an early flood-warning system, designed as a series of stepped terraces that will be progressively submerged as flood water encroaches, so the residents won't be taken be surprise as their house lifts off.
A few miles upstream, in Henley-on-Thames, the architects have secured planning permission for a second house that takes flooding in its stride. On Henley Isle, a small sliver of land in the river, which was mostly submerged by floods in 2014, they have designed a white lozenge-shaped boat of a house, shaped so that rising waters will happily flow around it. It will have a stone base carved with horizontal stratifications to disguise any tide marks, while the ground floor will be fitted with high-performance flood-proof doors and windows – and an extra-wide staircase to allow furniture to be taken upstairs if the defences are breached.
These one-off luxury riverside homes might not seem to have much to teach the volume housebuilder – the addition of amphibious systems raises costs by about 20% – but Baca have also been working on strategies on a bigger scale. They have produced a masterplan for 670 homes on a 19 hectare (46 acre) brownfield site in Norwich, by the confluence of the Wensum and Yare rivers – squelchy land that has lain dormant for the past 25 years. Although half the site has a high probability of flooding and its edge is only 45cm above sea level, the architects have come up with a scheme that embraces the soggy setting. Terraces of homes will extend into the site like little fingers, either side of existing rills and swales, to allow water to drain into the marsh, while permeable paving and a floodable public square will help to divert water away from the houses.
"It's about trying to celebrate the proximity to this incredible marshy world," says Barker, "with homes that back on to the channels, allowing kids to play in the streams and feel closer to nature."
In their entry to a competition for a site on the Seine in south-east Paris with a once-a-century risk of 3 metre-deep flood water, the architects adapted their strategies for high density urban development with a scheme that welcomes water into the site. Rather than deploying expensive defence measures, they suggested weaving a network of watercourses through the streets, creating flood parks and rain squares, and bringing the riverside setting to the surface. Crucially, these measures would help reduce flood risk further downstream, protecting the city's historic centre – in sharp contrast to current UK policy, which too often sees agricultural land protected with flood defences at the expense of towns downstream.
Barker and Coutts's next completed project is at the humbler end of the scale, but may turn out to be the most widely applicable. In refurbishing an old Victorian terrace house in an innovation park in Watford, they are planning to showcase the kinds of upgrades possible with the government's new grants of up to £5,000 for properties damaged by flooding. From simple measures such as raising electrical sockets a bit higher to water-resistant wall finishes, drainage valves and ventilation units to help properties dry out more quickly, the renovation will show how a standard house can be made more flood resistant without resorting to floating the whole thing on stilts.
"At every scale of development, from regional planning to your back garden, we should be thinking about making space for water," says Barker. "Because, like it or not, it's not going to go away."
guardian.co.uk © Guardian News & Media Limited 2010
Published via the Guardian News Feed plugin for WordPress.