Soft colours, rich fabrics, furniture characterized by elegant angles and lines; this is the glamorous and luxurious look of 1940's vintage interior design. Calling to mind the classic interiors in Hollywood films of the post-WWII era, luxurious vintage looks can be achieved by making only minor adjustments to a room. The addition of a few key pieces of furniture and the use of an array of colours and fabrics can create the look quickly and easily.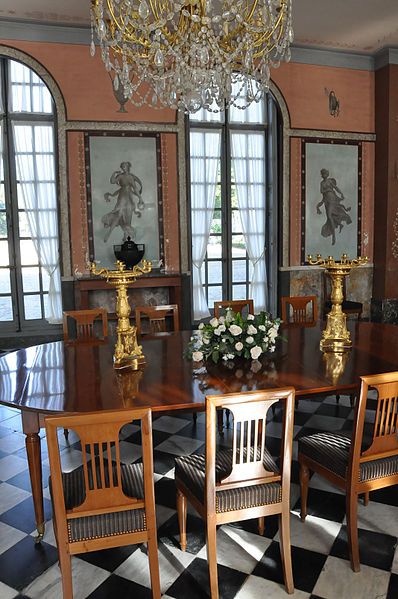 Colours and fabrics
The colour palette for a luxurious vintage room, whether a living room, dining room, bedroom or kitchen should begin with bases of neutrals. Soft white, cream and beige make a wonderful beginning and look beautiful as they upholster chairs and sofas or carpet the floor via an area rug. Slightly darker neutrals, including light grey and mushroom brown, also work well as a contrast to light-coloured carpeting or in an especially bright room. Dark chocolate brown can be lovely, whether as upholstery on a Morris chair or as buttoned throw pillows. The colour also looks wonderful in the form of wooden furniture.
Depending on taste, accent colours may be either bold, such as deep blue, claret red or dark green or softer pastel shades. Deep rose, lush green, deep lavender and shades of turquoise, such as duck egg blue, are examples of these soft pastel shades.
When it comes to fabrics, almost anything goes, provided they look and feel luxurious. Fabrics with a sheen, such as satin, sateen and some velvets make for rich draperies and accents. Moiré and tone-on-tone brocade look beautiful upholstering occasional chairs.
Vintage fabrics, including floral-patterned, which are perfect for a kitchen or bathroom, can be found at antique markets, flea markets, even thrift stores. They are then simply made into unique throws, pillows, chair-seat covers or tablecloths, bringing a luxurious vintage touch to any room.
Luxury vintage-style furniture
Though a great deal of custom pieces and factory-made items from the actual period may still be found in antique shops and flea markets, a great way to create the luxury vintage look is to take relatively simple pieces of furniture, whether already in the home or purchased pre-used from a thrift store or antique shop or even purchased brand new. Upholstered furniture, including sofas, chairs and stools may be recovered in time-appropriate fabrics; wooden legs may be refinished in darker tones to add to the rich look and feel of the pieces.
Wooden furniture is especially flexible and may be quickly and easily altered with the use of stains and paints to create a vintage look. Dining table sets, coffee tables, curios, sideboards, desks and shelves benefit from a dark chocolate brown stain or perhaps a lighter antiqued finish for a more European, country look. Distressed-look items also add to the authentic vintage design.
Entertainment cabinets and display units do not have to be pushed into corner to maintain the luxurious vintage look. Television became popular in the forties and can fit in perfectly with the décor; many old console television cabinets are still to be found in antique shops and thrift stores and can easily be altered to house a modern TV.