The Riviera Maya or Mayan Riviera extends along the east coast of the Yucatán Peninsula in Mexico, from Puerto Morelos in the north to Felipe Carrillo Puerto in the south. The locale is often described as full of magic, with a rich habitat of flora and fauna and many natural wonders, including the deep turquoise and blue of the sea; the low, tropical jungle and the wonderful ecological reserves. Here there are fabulous, unique geological formations, for example where collapsed limestone bedrock has exposed underground water, forming cenotes or sinkholes.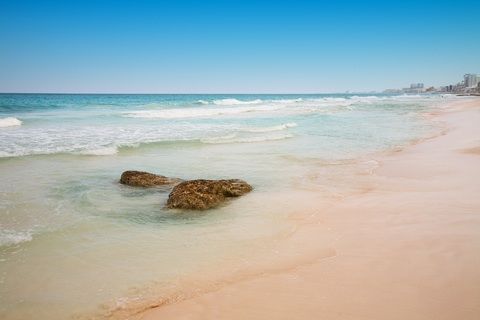 Running parallel with the coastline is the largest coral reef in the northern hemisphere and the second longest in the world. Known as the Mesoamerican Barrier Reef System or sometimes the Belize Barrier Reef, coastal and reef aquatic activities are particularly popular here. All along the Riviera Maya there are large-scale, all-inclusive resorts and collections of smaller boutique hotels, so visitors who get cheap tickets to Cancun airport, which serves the Riviera Maya, can take their pick of either luxury or standard accommodation. Highway 307, which runs along the coast, provides access to many fine-dining restaurants on or near the endless white sand beaches.
Local attractions
The natural attractions include ecological reserves, mangroves and lagoons, ancient Mayan cities and of course, the coral reef, where scuba diving and snorkeling are perennial favorites. Swimmers and heritage enthusiasts alike are often attracted to Tulum, which boasts the only known archaeological site built on a cliff top next to the sea.
Xel-Ha, which means 'place where water is born,' is an incredible natural aquarium where the ocean mingles with freshwater currents of underground rivers and springs, creating a fascinating ecosystem. Impenetrable jungle, cenotes, caves and some smaller archaeological sites circumscribe it and are in turn surrounded by the park, an ideal habitat for many diverse forms of flora, fauna and marine life.
Xplor is a different kind of adventure, a unique eco-park where visitors can swing through the treetops on zip-lines or discover grottoes and unique rock formations while traveling on underground rafts. Amphibious vehicles provide a thrilling three-mile trek over paths in the jungle to reach Xplor's cave, while enthusiasts who are into subterranean swimming are rewarded with a steaming cup of hot chocolate.
Relax and enjoy the luxury
The hotel zone around Tulum provides a particularly delightful setting for those in search of peace and tranquility. Here, charming eco-hotels and cabañas are sprinkled along a stunningly beautiful stretch of beach. One of the popular experiences of the Mayan Riviera is a luxury spa, where exclusive formulas made from local natural ingredients help to rejuvenate mind and spirit. Spas are located in most of the upscale resorts and provide massages, braiding and henna tattoos, in addition to more traditional treatments.
Alongside the unique cultural experiences and the natural and archaeological wonders of the Riviera Maya, there are superb recreational and sports facilities, including golf and opportunities to enjoy fine dining and sample exquisite Mayan cuisine. The Riviera Maya really has managed to snatch a little piece of paradise to call its own.