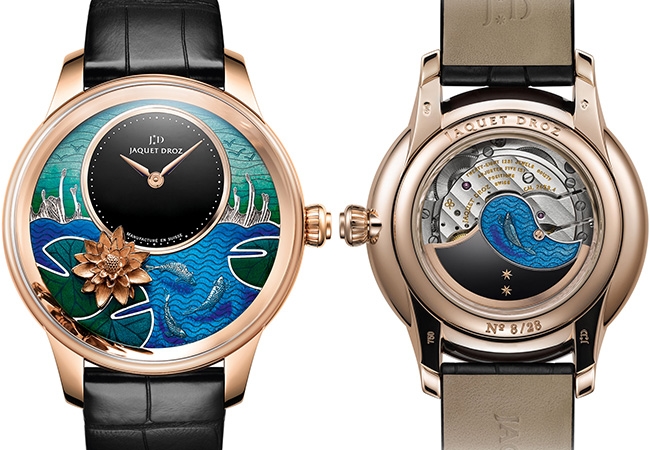 The silhouettes of three koi carps, the symbol of love and long life, bring alive the dial of the new Petite Heure Minute Relief Carps watch by Jacquet Droz (Swiss watchmaker since 1738).
The carp is revered in Asia as an allegorical symbol to represent love, perseverance, longevity and virility. Small groups of this highly-prized fish are often used to embellish ornamental ponds.
The scence has been reproduced at a scale of 41 mm, with the dial set over a tranquil pond of crystalline waters created through subtle layering of translucent blue enamel. Two lily pads float gracefully on the surface, crowned by a blooming lotus applied in relief, and hand-engraved gold reed stems rise from the waters. Under the enamel, three elegant koi carp glide along in a spontaneous underwater ballet, standing out against the background of wave-ridged gold. The enamel lightens across the upper half of the watch face in gradually shaded colors underscored by an engraving of sky and birds. Here for the first time, Jaquet Droz presents an enameled balance weight decorated with a carp hand-engraved in bas- relief.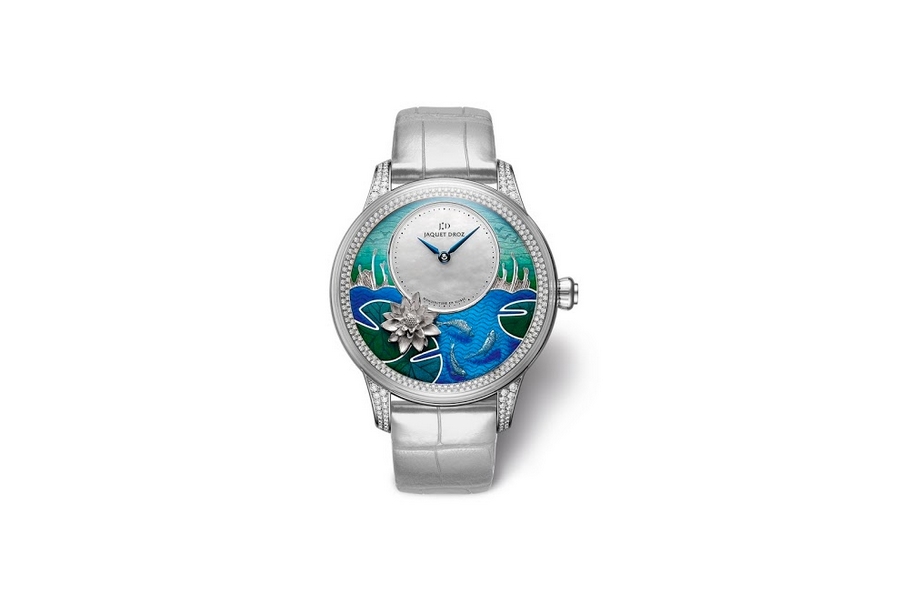 The balance weight echoes the color of its case, with a choice of two versions for the Petite Heure Minute Relief Carps. In the white gold case model, bezel and horns are set with brilliant cut diamonds and the white mother-of-pearl hours-and-minutes sub-dial is encircled in white gold. The red gold case model features a black onyx hours-and-minutes sub-dial with a red gold outlining ring. Enhanced by a rolled- edge hand-made gray or black alligator leather strap, both versions of the Petite Heure Minute Relief Carps will be limited to 28 exclusive pieces.