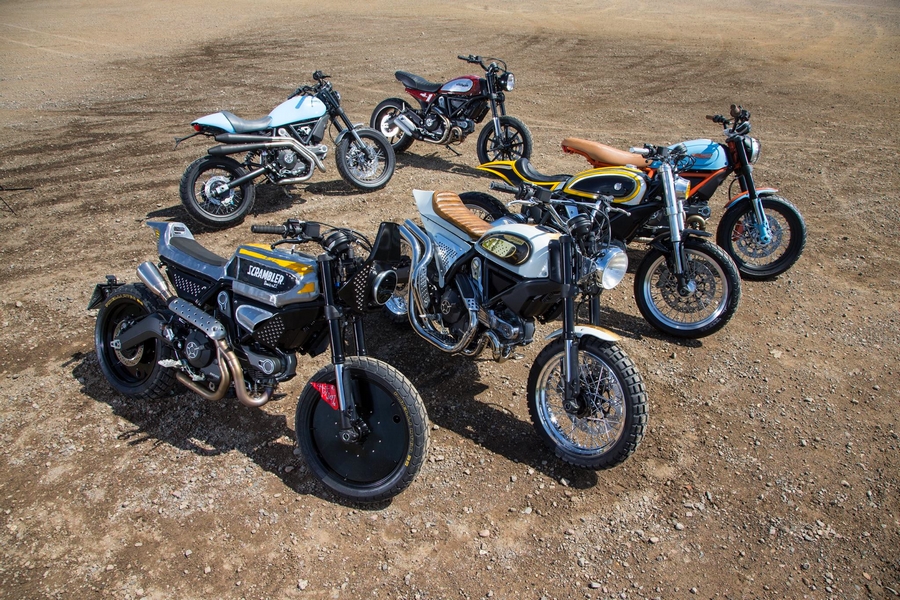 Ducati and Pirelli commissioned Vibrazioni Art Design to create a work of art on the Ducati Scrambler two-wheeler. The specialv limited edition was introduced on 22 May at the London "Bike Shed" (an event dedicated to special bikes) called the "SC-Rumble."
And so the "SC-Rumble" was born, a special edition manufactured as a single unit. Built on the base of a Ducati Scrambler, on the two sides of the tank it has a  rubber sheet, laser inscribed with the tread design of the factory tyres and the Scrambler logo.
From the British capital, "SC-Rumble" will leave on a trip that will take it to the  French town of Biarritz where it will participate in the "Wheels and Waves" show scheduled from 11 to 14 June. Anyone can come along on the trip, which will be  documented daily on the Ducati Scrambler Facebook page and the Pirelli Moto Facebook page.
Scrambler is a brand that includes bikes, apparel and personalising accessories. The Ducati Scrambler is available in four versions, Icon, Urban Enduro, Full Throttle and Classic, which are just the tip of the iceberg to meet the needs and tastes of various types of bikers. Thanks to the wide range of accessories, anyone can create their own Scrambler. The Ducati Scrambler is not a vintage bike, but rather the ideal result of how the famous bike from Borgo Panigale would be today if Ducati had never stopped producing it.
The bike's set up and riding settings were modified thanks to the use of a tailor- made rear shock absorber with a longer wheelbase and the replacement of the factory handlebar with one from the Ducati Streetfighter, which gives the bike a tighter and more reactive ride. One side of the tank has the words Ducati Scrambler hand painted and the other side emphasises the texture of the Pirelli MT 60™ RS tyre tread pattern, laser inscribed on nitride rubber and applied within the body of the tank itself.