Congratulations to Marta Marques and Paulo Almeida, designers of Marques'Almeida and winners of this 2015 edition of LVMH Prize!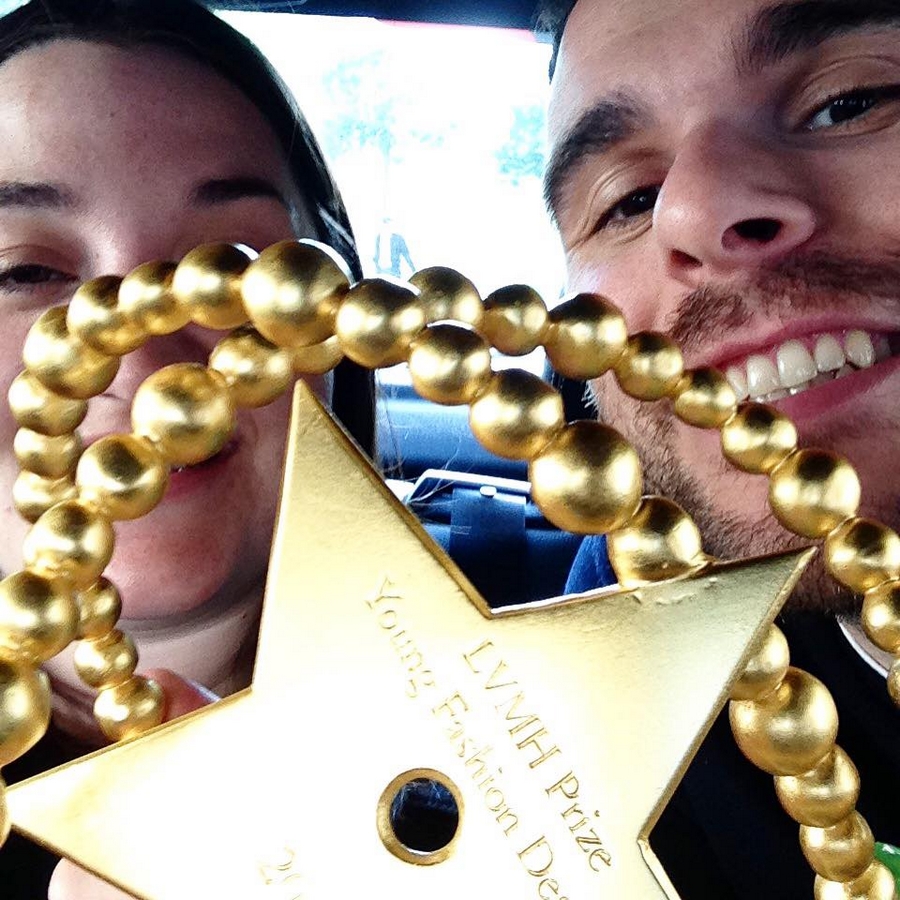 Marc Jacobs, Karl Lagerfeld, Raf Simons, Riccardo Tisci, Phoebe Philo, JW Anderson and Nicolas Ghesquière awarded London-based Marta Marques and Paulo Almeida the 2015 LVMH Prize for young fashion designers. The star-studded jury offered Marques' Almeida €300,000 in prize money plus a year of personalized assistance from LVMH brands in areas such as intellectual property, marketing, production and distribution.
Natalie Portman honoured LVMH by presenting the 2015 trophy, designed by Jean- Michel Othoniel, to the winners.
Cutting their teeth at Vivienne Westwood and Preen respectively, Marques and Almeida took the natural course of combin­ing talents while on the MA at Central SaintMartins – hitting the mark between impulse and consideration.
They launched MARQUES ' ALMEIDA in April 2011 and showed for their first 2 seasons under Lulu Kennedy's platform – Fashion East. They have been awarded NEWGEN sponsorship from the British Fashion Council/Topshop and have shown SS 13 , AW 13 and SS14 on schedule at LFW.
"I would like to congratulate Marques'Almeida who impressed the jury with their technical expertise and their unique approach to working with colour and texture; and Simon Porte Jacquemus who we decided to award a special prize. The second edition of the LVMH prize once again put the spotlight on exceptional new talents and I look forward to seeing them grow in the years to come," says Delphine Arnault, Director and executive Vice President of Louis Vuitton (LVMH Group).
In recognition of the exceptional talent involved in this year's competition, the 2015 jury decided to give a special prize to Simon Porte Jacquemus of Jacquemus. He is awarded with a grant of 150, 000 euros and a year-long mentorship from the LVMH group.
In addition to the main category, three fashion graduates have each been awarded the Graduate Prize of 10, 000 euros and a post within the LVMH group for a period of one year. The recipients for 2015 are: Matty Bovan and Gabriel Castro from Central Saint Martins, and Josh Dean from Kingston University, who will be placed at Louis Vuitton, Kenzo and Dior, respectively. Additionally, LVMH reinforces their support of emerging design talent by offering Central Saint Martins and Kingston University, both in London, a grant of 10,000 euros each in acknowledgement of their excellence. The next edition of the Prize will be held in 2016.