"What's your Wild Rabbit?"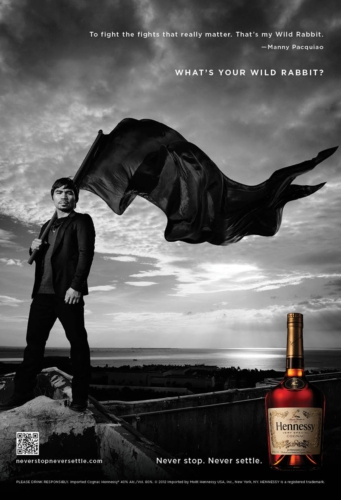 Hennessy, the number one selling Cognac brand in the world, unveiled the brand's new landmark communications campaign, entitled "Wild Rabbit." Hennessy aims to draw parallels among the journeys of leading icons invarious fields and the paths being forged by those who enjoy Hennessy. Throughout their experience of the new campaign, Hennessy fansare asked to pursue their Wild Rabbit, Hennessy's embodiment of one's inner drive to succeed.
Hennessy's "Wild Rabbit" campaign marks the brand's return to television, where it has not advertised since 2007.
"This campaign redefines what it means to be a luxury brand," said Rodney Williams, Senior Vice President, Moet Hennessy USA. "We are communicating a value that is at the core of who we are as a brand and which resonates with our consumers: that true success is fueled by the spirit of conquest within you; a drive to never stop and never settle."
This year, Hennessy spotlights luminaries who push the limits of their own potential in music, arts, sports and film, including world champion boxer, politician and businessman Manny Pacquiao; multi-award winning musician, lyricist and poet Erykah Badu; and film-making visionary and philanthropist Martin Scorsese.
"What makes these individuals special is that they are always striving to grow and evolve and reach new levels of achievement," said Rodney Williams. "In championing their stories, we endeavor to tell Hennessy's story and empower our consumers in their own chase."
At the brand's launch in New York City on April 5, 2012 Hennessy and Martin Scorsese presented $250,000 to the Michael J. Fox Foundation for Parkinson's Research.  In addition, the Foundation will receive all proceeds from silent auctions of special edition prints by campaign photographer Frank Ockenfels III.
Online, Hennessy is quenching fan curiosity by bringing the "Wild Rabbit" campaign to life at the special designed website. The Wild Rabbit chasers will have the opportunity to explore the concept and pick up inspiration along the way. As a reward for their tenacity in the chase, those who venture deeper into the digital rabbit hole can uncover hidden rewards ranging from VIP experiences to event invitations to engagement with Hennessy talent. In addition, users will be able to set a custom soundtrack and download celebrity song lists through Hennessy's partnership with Spotify.
http://www.youtube.com/watch?feature=player_embedded&v=RkwabNPsvTA
http://www.youtube.com/watch?v=OzDuRM8B_-8&feature=endscreen