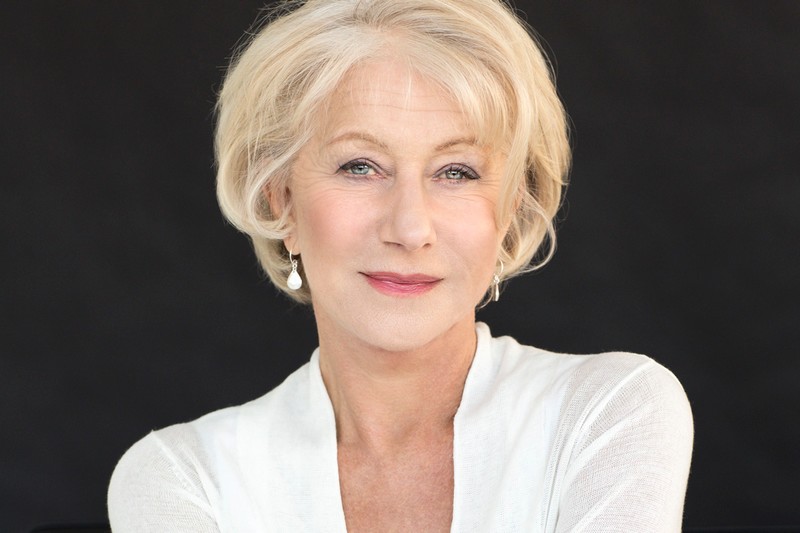 ---
This article titled "Helen Mirren at 70: fashion gifts from a grande dame" was written by Alyson Walsh, for theguardian.com on Wednesday 22nd July 2015 11.02 UTC
How brilliant is Helen Mirren? Allow me to count the ways. Take the fact she thinks sexism and ageism in Hollywood is "fucking outrageous" and will say so often to whoever is listening. And the fact that, at 70 years old this Saturday, she isn't planning to retire any time soon, having gone successfully from stage to screen and back again in a career spanning almost 50 years. Later this year, she'll be appearing as 1940s gossip columnist Hedda Hopper in the film Trumbo and intelligence officer Colonel Katherine Powell in the military thriller Eye in the Sky. The winner of one Tony, four Baftas, four Emmys and an Oscar, the feisty, London-born actress is a trailblazing force to be reckoned with and has no intention of slowing down, shutting up or becoming invisible. Dare to mess with Mirren and risk an expletive-ridden audience with the Queen. She has also been a long-time style crush of mine, and theses are the fashion gifts she has bestowed upon us.
Real women wear sleeves
When high-street bigwigs believed that mature women wanted piddly shoestring straps, the grande dame soon put them straight. "There are no dresses with sleeves, and we need to bring back the sleeve: fine, see-through ones, long or short." Her campaign for better coverage and the right not to bare arms has made dresses with sleeves more desirable. Result.
Seventy is awesome
We all know growing old isn't for cissies, but at least Mirren makes it look like fun. She's proof that confidence comes with age and experience. "I used to worry a lot more about my looks than I do now – when you're young and beautiful, you're paranoid and miserable. I think the great advantage of getting older is that you let go of certain things." There's a strength in older women who remain engaged and relevant and visible that's empowering to women of all ages – and incredibly attractive. Beauty brand L'Oreal obviously thought so when they signed Mirren as the face of their Age Perfect Campaign in October 2014. And the award for age-positive role model goes to …
Do forget your luggage
Taking travelling light to a whole new level, Mirren once admitted that she only takes underwear on holiday: she heads straight to a charity shop on arrival to buy the rest of her holiday wardrobe, then drops it all off again before catching a flight home. No suitcase, no surcharge, donating to charity – this could be the single greatest budget-airline-defying travel plan. I can't believe it hasn't caught on.
Real style doesn't age
Ruling the red carpet with majestic grace, Mirren makes eveningwear look easy. The figure-hugging cocktail dress (often in a The Cook, The Thief-inspired shade of scarlet or green), the statement earrings, the versatile mussed-up or slicked-back bob, the woosh of red lipstick. The look is elegant, chic and not overdone. A fan of Dolce & Gabbana frocks, Mirren has found her style and knows what suits her. She continues to refresh and refine her wardrobe and experiment with playful prints, dress silhouettes and the occasional pink rinse. All of which helps her look modern and self-assured. For a night on the town, just follow her advice from the Tony awards: "Stairs, heels, drink – lethal combination."
Alyson Walsh is the author of Style Forever: The Grown-Up Guide to Looking Fabulous, published by Hardie Grant. She blogs as That's Not My Age and tweets at @thatsntmyage
guardian.co.uk © Guardian News & Media Limited 2010
Published via the Guardian News Feed plugin for WordPress.