Designed for gifting: expertly crafted copper bar tools and drinking vessels to drive awareness to the cause with hopes of transforming the spirits industry.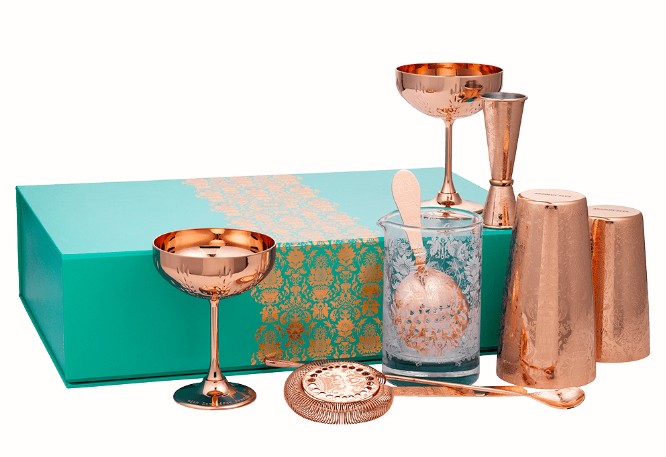 Bring the elegance and beauty of copper into your home with the ultimate bar tool collection.
Over the last few years, Elyx Vodka's copper collection has become increasingly popular. The luxury vodka brand is expanding beyond the spirits industry. Absolut Elyx is expanding their range of signature copper drinking vessels and unique lifestyle pieces to include their professional grade bar tools and festive drinkware. The copper collection features high-end designs, attuned functionality and an unparalleled attention to detail that truly defines luxury.
Absolut Elyx has a one-of-a-kind, hand crafted distillation process in which copper plays an integral role. The unique use of copper in the distillation process removes unwanted impurities and gives Elyx a distinct character and unparalleled silky smoothness. Absolut Elyx is to be enjoyed in many forms and arguably best served in Elyx's original copper drinking vessels.
The luxury eight-piece Martini set of high quality professional bar tools and glassware along with a comprehensive guide designed to perfect your martini making will allow you to give your guests the most memorable cocktail experience.
For every copper item and every bottle of Absolut Elyx sold in the USA, the brand will be donating a week's (140 liters) worth of safe water to those in need of it. Absolut Elyx has been helping to provide sustainable water solutions where they are needed most through their partnership of the non-profit organization Water for People. Elyx is made from over 50% water so they have partnered with one of the most respected water organizations to drive awareness to the cause with hopes of transforming the spirits industry. To date, over 30,000 people have been given access to safe drinking water through this partnership.
For the festive Holiday season, the Elyx Boutique Pop-up Shop at The Grove's Farmers Market will be open every day from Monday November 27th through Sunday December 24th.
Photos Credits: absolutelyx