The luxury vodka Absolut Elyx debuts The Elyx House.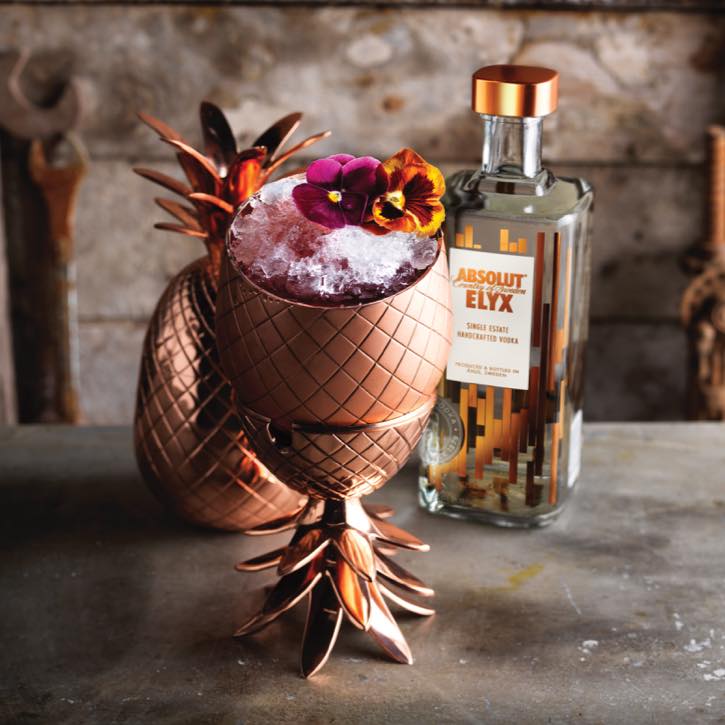 Sumptuous but inviting, the new The Elyx House opened in New York will create experiences for vodka fans. The purpose behind the Absolut Elyx House is "to offer an immersive brand experience, where visitors can enjoy the unique style of hospitality, as well as drink Elyx cocktails."
The 5,000 square foot expansive loft space is located in downtown Manhattan and is also the private residence of Absolut Elyx CEO – Jonas Tahlin.
The house features a twenty three seat reclaimed wood dining table, Gustavian chandeliers, a copper disco ball, flamingo punchbowls and an abundance of the signature Elyx copper pineapple cocktail cups. The private residence is revealed only to those who know how to open the secret bookcase door.
Combining a rugged blend of raw industrial materials, worn wooden paneling and concrete, the rough-hewn base acts as the perfect backdrop to celebrate luxurious properties of mother of pearl, velvet and copper. Fundamental to the heritage and distillation process of Absolut Elyx – copper is featured heavily in the design of the brand home.
The design visionary behind the Elyx House is award-winning interior designer Shaun Clarkson, who has worked with Absolut for over two decades. Some of his most notable projects include high-end bespoke commercial and residential projects, including the Fifth Floor Bar at Harvey Nichols and Michelin-starred restaurant Oxo Tower.
Absolut Elyx is produced from single estate wheat in Sweden and distilled in a hand-operated vintage still from 1921 made entirely from copper.