The jewellery signed "Mattia Cielo" is turning heads by breathing life into ornaments that are apparently simple, but reveal a deep awareness of the precious materials and some of the most technological research in the jewelry field.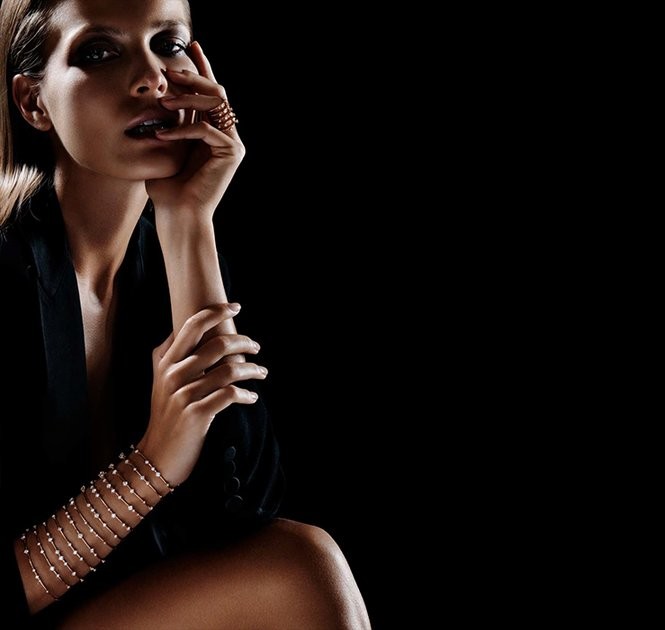 At Baselworld 2018 jeweler Mattia Cielo aims to reassert the outstanding features of its high-end creations through what is, and will doubtless remain the signature collection, the so often imitated but never equalled Rugiada.
A big jewel is featured at the entrance to the new stand at Baselworld 2018, where the entire collection can be admired in all the external showcases .
The ultimate highlight is a "one-off"outstanding 16-turn bracelet.
"Mattia Cielo has applied an innovative titanium alloy from the aerospace industry, conveying a unified form and a superb capacity for "memory" – that is, to return to the original position despite rigorous use. Lightness, softness and sparkle are the key words of this jewelry collection," said the jewelery house.
With this monothematic presentation, Mattia Cielo wants to state the uniqueness and originality that are the birthright of these undisputed bestsellers, which continue to grow with new variants:: in pink, yellow, white gold- with diamonds and coloured stones. Spirals that wrap with supple softness around the wrist when worn and then return to their original shape.
Baselworld 2018 also offers, the chance to have a glance at the "avant-garde" collections, from Ghiaccio to Pavone and from Sole to Universo, as well as the memorable Masterpieces that have driven the brand to international success.