Frank Lloyd Wright-inspired luxury home "The Alexander House" is listed for sale in Palm Springs, California, at $2.795 million. The home, which is listed on the National Register of Historic Places, was designed by master architect Walter S. White in the Modern style.
Created in 1956 by Walter S. White who worked with Frank Lloyd Wright, Albert Frey and Rudolf Schindler the 3200 sq, ft property offers infinite views of the Coachella Valley while offering privacy and seclusion.
White's architectural genius is on display throughout the property, from its foundation embedded in natural boulders to its signature curving roof. The site's mixture of desert trees, cacti and plantings set above a sea of boulders in front of the house enhance the property's privacy.
Blending historical importance and timeless design, Alexander House is tucked away in the Little Tuscany neighborhood, one of Palm Springs' oldest residential districts known to have been frequented by the famed "Rat Pack" celebrities. The more than 3,200-square-foot property, located at 1011 W. Cielo Drive, offers spectacular views of the Coachella Valley. The main residence features two bedrooms, three bathrooms and an oversized two-car garage. The secluded luxury property also includes a quaint guest house with one bedroom, two bathrooms and a comfortable living room.
Architectural highlights include: the curling roof that seems to peel away from the two-story building whose western half appears to be embedded into the hillside; a floating "light shelf" set between the roof and the sliding glass walls on the home's south side; and unusual V-shaped steel supports, giving the appearance that the eastern half of the home hovers above the natural bolder-covered slope. The lower level of the home is also clad in glass and incorporates locally obtained "lava rock," which continues into the interior on both levels. The upper level of the home sold through patrickstewartproperties.com integrates vertical redwood siding and glass
The original 28-foot-wide circular pool is complemented by a rock-clad hot tub. The integration of old and new includes updated kitchen appliances and bath furnishings. The interior design preserves a White-designed, custom steel pendant chandelier, suspended from the end of the joist of the black- painted steel beam; a free-standing circular steel fireplace; and an open-tread, black-steel staircase created by renowned architect Albert Frey. All contribute to the distinctive character and luxury of the architecturally significant Palm Springs property.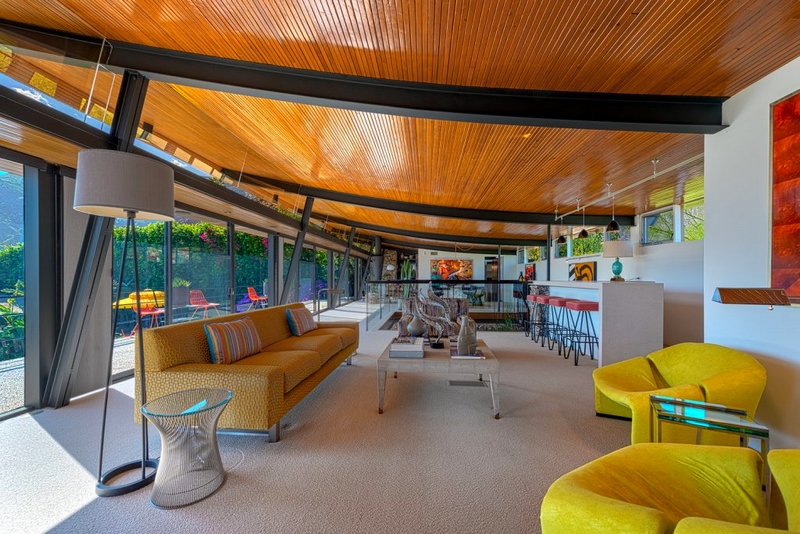 Alexander House Highlights include: designed by Walter S. White, apprentice of Frank Lloyd Wright, included on the National Register of Historic Places, infinite views of Coachella Valley, unique architecture that blends with natural surroundings, remodeled kitchen and bathrooms. circular pool and spa, private setting, includes unique original designs, including curved roof, circular fireplace, Frey-designed staircase, oversized garage with extra room for a workout or wine room.
images: patrickstewartproperties