Your own pilot fish. While you enjoy your underwater experience, this smart wireless drone with its camera and lights captures every moment for you.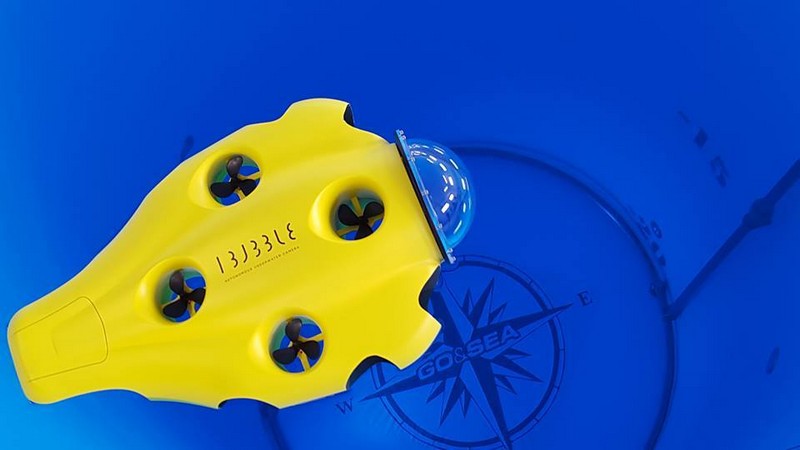 The first autonomous diving drone follows you and captures beautiful footage, hands-free. Entirely autonomous, iBubble follows you and films your entire diving session. With the wireless connected bracelet you can film from different professional angles.
iBubble opens a whole new (underwater!) world of filming opportunities. Create shots like a professional: record what you see from a distance, follow and film yourself, have iBubble orbit around you, and much more. Integrated LED lights automatically adjust their brightness to allow you to capture the true colors of your surroundings.
The drone uses sonar to avoid hitting coral or reefs. It is silent and works on emission levels without danger for marine mammals.
"The iBubble project was born from the meeting between diving enthusiasts and experienced engineers in the fields of drone, underwater mechanics, embedded software and machine learning, " commented the team.
"The first works allowed to validate iBubble's ability to follow you underwater, wireless. Currently, we are working on the development and industrialization of iBubble, using lean and agile methods. "
Not sure what's under the boat? If you'd rather scout unknown spots from the comfort of the boat before diving, you'll love iBubble's remote control option. Plug it in, immerse iBubble and see for yourself if it's worth getting wet.
"As we kept developing iBubble, we had to make a few changes to iBubble's design in order to have the most hydrodynamic design and get the best out of the drone. We personally love it!" said the designers team announcing a final prototype and iBubble's new design.
1HOUR BATTERY LIFE 60 M / 196 FT. MAX DEPTH
Dive and film all day long, easily replacing the battery between dives. iBubble dives to 200 ft (60 m) and can move up to a speed of 2.2 mph (3.5 km/h). It automatically resurfaces in case of emergency. It returns and clips onto the diver when out of battery.
Since water absorbs colors starting at a depth of 5 ft, images and videos can appear noticeably blue- green. In order to give you perfect filming conditions and to help you avoid carrying extra lights, the designers have incorporated two 1000 lumen light bulbs in iBubble's design. These lights can be switched on and off at the diver's convenience.