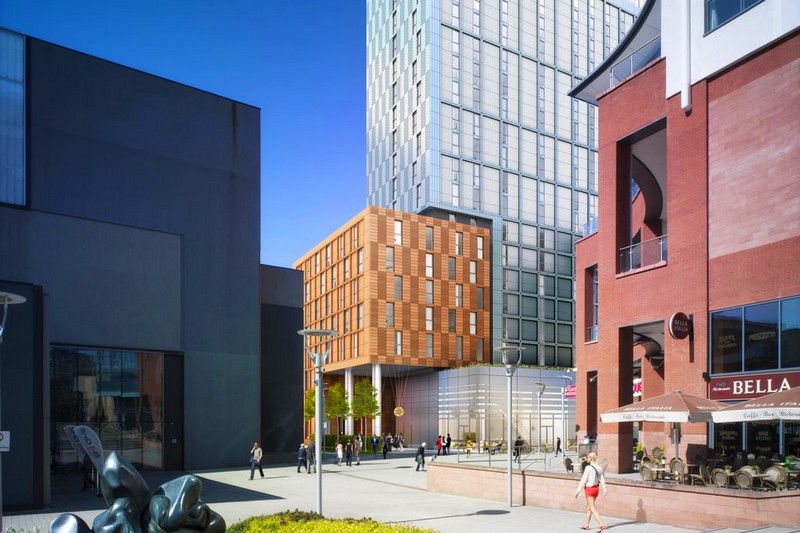 ---
This article titled "En-suite education: the unstoppable rise of luxury student housing" was written by Adam Forrest, for theguardian.com on Tuesday 29th March 2016 13.00 UTC
Once upon a time, students lived in the cheapest and grottiest shared houses a city had to offer. First-year students had it even worse, traditionally confined to bog-standard, barrack-like halls of residence tucked away on the edge of campus.
Today, student accommodation in the UK is big business. According to the estate agent Savills, £5.8bn was pumped into the market last year, and private developments continue to spring up on prime city-centre sites. From the outside, the blocks look indistinguishable from residential flats, except for the giveaway branding that promises a "boutique" or "luxury" student experience.
Nowhere is the student housing boom more evident than Coventry. The city centre is best known, and often maligned, for its radical postwar reconstruction. Yet the maze-like 1950s shopping precinct and 1960s office blocks will soon be surrounded by towering 21st-century student flats. A company called Study Inn now offers accommodation at five locations.
Coventry University has been relaxed about the private sector picking up the demand among overseas students for hotel-type rooms, with flatscreen TVs and en suite bathrooms. Four of the five Study Inn locations are made up solely of self-contained studio apartments, with rent ranging from £141 to £181 a week.
Several more big developments are on the way. Work has begun at Belgrade Plaza, where Downing property group's 20-storey, 597-room student complex will soon become the tallest building in the city. The university is working with Barberry to create another 1,200 rooms nearby, while the student housing provider Unite has partnered with a local developer on an ambitious housing and retail project that will open up a hidden part of the river Sherbourne running under the city centre.
The university is enthused by all this activity: it expects student numbers to grow by around 4,000 over the next five years. Coventry city council is delighted, too, viewing the student boom as a handy regeneration tool. Fresh development is under way on long-derelict brownfield sites and the night-time economy is flourishing.
"If you came here four or five years ago, post-recession, there was no buzz in the city centre," says Kevin Maton, the council's cabinet member for business. "But since 2013, there have been more people around, more bars open, more restaurants open. Students are the advanced guard of creating that activity, that buzz. They help make it easier to persuade other businesses and investors there is something going on here."
Not everyone is convinced. Coventry is now seeing tension between "town" and "gown" as locals grumble about the scale of the student-focused building. As each project wins planning approval, the Coventry Telegraph grows fuller with complaining comments and letters – though most are based on a belief the city centre is becoming a gentrified student zone rather than detailing any specific objections. As one reader put it: "I'm fed up with students taking over the place."
Adebowale Adebiyi, 24-year-old representation and welfare officer at Coventry University Students' Union, puts it down to growing pains as the university expands. "I've had conversations with people who say it feels like the campus is encroaching on everything," he says. "But most people seem to realise a successful university is good for Coventry. It brings a lot of benefits."
If a cultural shift is playing out in Coventry's city centre, there are signs elsewhere of a new, lucrative kind of student life pushing into traditionally low-income neighbourhoods. In Glasgow's west end, the rise of private student flats in Finnieston and Charing Cross to accommodate undergraduates – some including in-house cinemas and Danish interior design from Bo Concept – has gone hand-in-hand with the district's surge towards uber-cool status. Once home to warehouses and shipyard workers' pubs, Finnieston is now full of cocktail bars, gourmet burger joints, hipster barbers and art boutiques.
In Bristol, new student developments like The Platform have started to pop up close to the increasingly fashionable Gloucester Road, where artisan bakeries, craft ale pubs and gluten-free fish and chip shops are beginning to dominate.
"Students play a part in exacerbating the gentrification process, even if you can't really blame them for it," says Reuben Nash, a second year student at the University of West of England in Bristol. "Students add to the demand for nice cafes and bars and so they add to an area like Gloucester Road being seen as bit cooler, a bit livelier. So landlords put rents up and house prices rise. It's ironic, because a lot of students can't really afford to go to restaurants or expensive coffee shops on a daily basis."
The people who run the NUS and student housing charity Unipol are worried affordable options are dwindling. They fear the shift towards high-end apartments is pushing up rents across the board, even in the old-fashioned halls with shared bathrooms and kitchens.
The latest NUS-Unipol survey shows the average weekly rent for student accommodation in the UK now stands at £147, an 18% increase since 2012-13. Since 2006, the private sector has gone from providing 18% of bed spaces to 41%. "The private operators produce a lovely product, high-spec rooms and gyms and and so on, but it all comes with a price tag," says Victoria Loverseed, Unipol's student engagement manager. "Universities are now aping the private sector by building this top-end stuff, so a lot of students feel priced out. You can't blame private companies, but universities have a got a different role. They should try to provide affordable options and not act like property developers."
According to James Pullan, head of student property at Knight Frank, the student housing market is booming: "We saw 3.65% rental growth across the UK last year, and it's been like that for 10 years, even during the downturn. It's true that the market is heavily focused on international students, and a majority of international students want new, purpose-built accommodation."
Is there a limit to this growth? Pullan says the private student housing market in some northern cities, such as Liverpool and Manchester, is now suffering from "indigestion": so many new flats have gone up in city centres that councils need time to digest all the developments before approving the next applications.
Student numbers are expected to increase for the foreseeable future, especially since George Osborne lifted the cap on how many each university can take. The latest UCAS figures show a 0.2% rise in applicants to higher education institutions for 2016/17, mainly thanks to a 6% rise from EU countries.
In Cambridge, the desire to be part of a city synonymous with top-notch education remains intense. Students living in the "Diamond" studios at the Railyard complex next to the train station are willing to pay more than £13,000 a year, while property group McClaren recently got the go-ahead for 270 student flats on Mill Road, a down-at-heel area of Victorian terraced housing east of the city centre.
Yet developers looking to get in on the act now face a backlash from residents' groups who view student accommodation as the enemy of family housing. Frank Gawthrop, secretary of the South Petersfield Residents Association, say the city's local plan was supposed to ensure this particular land was used safeguard the land for residential housing only. "We're desperate for affordable housing in Cambridge and we're losing good sites," says Gawthrop. "It means local people, especially young people, are left at the bottom of the pile."
Gawthrop is angry that the council's planning officers have proposed relaxing a rule that restricts new development to students at Cambridge or Anglia Ruskin universities. This would open up the market to all the language schools and "crammer" colleges popular with international students.
Colin Wiles, a housing consultant who lives in Cambridge and campaigned against the Mill Road development, worries about the long-term impact on British cities. "One of the principles of housing development should be that houses are adaptable over time," he says. "If the student market falls apart one day, what happens to all these tiny units?"
Shelly Asquith, the NUS's vice-president of welfare, warns against blaming wealthy foreign students for the gold rush. "The expectation is that international students all have loads of money, but it isn't necessarily the case," she says. "Some feel they don't have much choice about accommodation and have to pay through the nose. They're frustrated about it."
Asquith also worries young people from other countries won't get the most out of the student experience in the UK, whatever their "luxury" housing provider promises, if so many continue to be enticed into self-contained studios.
Tom Copley of the London Assembly Labour group thinks it's time developers stopped looking at overseas students as a cash cow. "The danger is we lose out on talent because it's only the wealthier students who can afford to be here," says Copley. "That would be a real shame. I'd like to make sure we're providing good options for people on lower incomes wherever they come from."
This article is part of the special Guardian Cities collaboration with the Young Urbanists and was commissioned by John Mason and Nicholas Goddard. Check out other stories from the collaboration on Twitter at #GuardianYU
guardian.co.uk © Guardian News & Media Limited 2010
Published via the Guardian News Feed plugin for WordPress.