Grand Soir Kaleidiorscope and Dior VIII Grand Bal Pièce Unique Ondine are perpetuating the excellence of  haute horlogerie for Dior.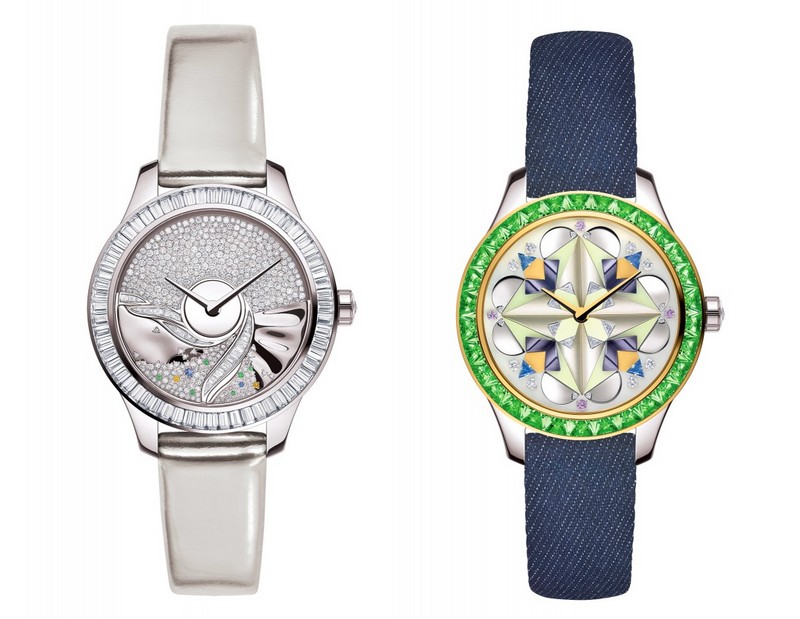 Luxury French Maison Dior unveiled a new series of eight exceptional unique pieces: the Dior Grand Soir collection. Delicate embroideries designed by Christian Dior served as a new source of inspiration for the Dior Grand Soir watches presented at this year's Baselworld mega event dedicated to luxury watches & jewelry (Basel, Switzerland). This timepiece creation is offered in an edition of eight unique pieces.
"True Luxury requires genuine materials and the craftsman's sincerity," noted Christian Dior. Since 2010, the Dior Grand Soir Kaleidiorscope watches have been perpetuating the excellence of haute horlogerie. A bracelet in denim or black satin highlights the play on materials and contrasts.
More than one hundred and eighty metals and stones of varying nuances and forms decorate the dial. The voluminous dial of the 2016 Dior Grand Soir is adorned with mother-of-pearl, ornamental stones, polished gold petals and precious stones. The bezel is set in diamonds, sapphires or tsavorite garnets in geometric shapes, accentuating the bewitching symmetry of the dial.
Dior's new timepieces feature an "Elite 681" automatic calibre movement from the Zenith manufacture. Through a colored pleat, the back reveals a lacquered oscillating weight in harmony with the dial.
Dior also unveiled the Dior VIII Grand Bal Pièce Unique Ondine timepiece – an ode to the Ondine dress created by Christian Dior for his haute couture autumn-winter 1947 collection. Entirely set with a blizzard of six hundred and forty-eight diamonds, tsavorites, amethysts and sapphires, the dial of this haute horlogerie creation is worked like a fabric to give the impression of a pleat in motion.
The uber luxury watch is equipped with a "Dior Inversé 11½" movement, as the rotor is brought into the foreground and morphs into the dial. The Dior VIII Grand Bal Ondine is being offered in an edition of twelve unique pieces.