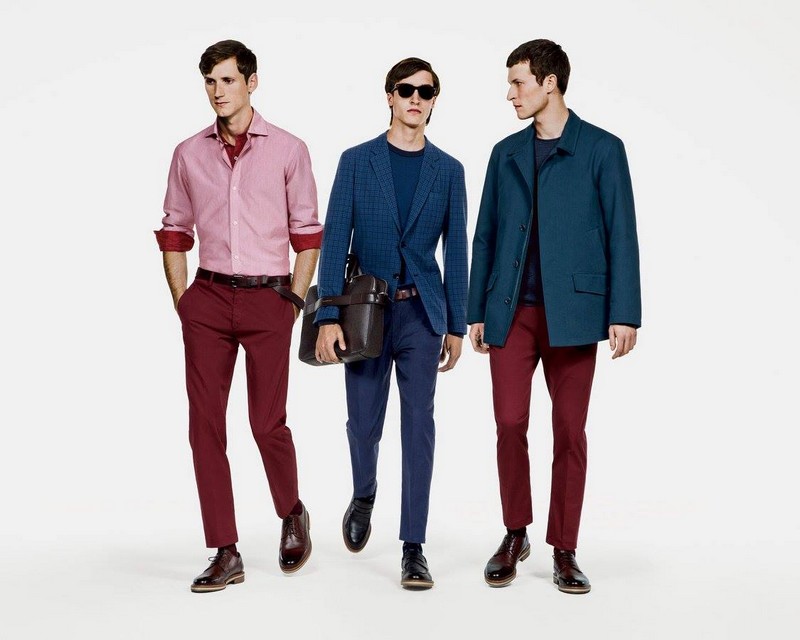 ---
This article titled "The evolution of men's suits" was written by Christopher Breward, for The Observer on Sunday 27th March 2016 05.00 UTC
Formal suits are one of those overlooked but enduring elements of modern life. For almost 400 years their presence in public life has been constant. Despite predictions of a demise in their popularity, their unobtrusive contours still clothe the bodies of men and women in all walks of life and all regions of the world. And beneath the monotony of appearances there is a poetry to their simple forms. The very fabrics and weaves of the suit's construction read like an ode to the traditional landscape: Saxonies and Cheviots in plain or Panama, hopsack or Celtic, Mayo, Campbell or Russian twill, Bannockburn, Eton stripe or Glenurquhart check.
Aside from its status as an icon of unchanging heritage, the suit has also adapted itself subtly and cleverly to change. Indeed, there are many fashion journalists who now look to this staple of menswear for signs of creativity and innovation that have been lacking in womenswear for years. The financial crisis, environmental concerns and a generation of consumers attuned to questions of ethics and quality have created a space in which a vibrant, if niche version of contemporary sartorialism can thrive. In this context, the longstanding values of perfect form and fitness for function attached to the cult of the suit have endured, prospered and look set to continue.
An evolving form of technology in its own right, the suit offers a canvas for those in the clothing industry who have become neophiles, championing future possibilities. In the present and coming marketplace, suits made to measure through the precision of body scanning and produced by digital printers, engineered to resist staining and creasing or to preclude the need for wasteful and damaging dry cleaning are either familiar items on the shop rail or at prototype stage.
In the realms of science fiction and experimentation the suit has lent itself to investigations of everyday clothing as armour against violent attack and surveillance, as a communications device for the transmission of big data, and as a membrane for medical and psychological intervention, feeding drugs to the body or enhancing mood. Its adaptability has ensured its survival as an icon and vehicle of modernity.
In just the past century then, the suit has been used for the purposes of trade, politics and nationalism. It has been adapted by mainstream designers and subverted by subcultures. Its currency has held value for the established professions – the lawyers, bankers and undertakers – while inspiring artists, writers, musicians and film-makers.
And in the more mundane circumstances of everyday life, though I find myself reaching for the tweeds and denim of sad middle-aged habit too often, the charcoal suit does still emerge from my wardrobe on occasions that demand more careful observation. In that sense my wardrobe habits have not evolved too far from those that dictated appearances for my father and grandfather's generations. In all of this I find some reason to hold out hope that the suit will endure for another 400 years, provided those values of reason, democracy, beauty and progress that characterise civilisation endure with it.
The Suit: Form, Function and Style by Christopher Breward is published on 18 April (£18, Reaktion Books )
The new sapeurs
Inspired by the revolutionary ideas of André Matsoua in the 1930s and fuelled by the cosmopolitanism of pan African music and dance that thrived in the 1950s and 60s, returning emigres from Paris fuelled a revival of political dandyism in the 1980s and 90s. Now the young men of Brazzaville and Kinshasa assert their aspirational styles as a form of ownership of the means to freedom. Suits were never made simply to conform. The Société des Ambianceurs et des Personnes Élégantes and its followers, the Sapeurs, have promoted a vibrant revival of the suit in the Democratic Republic of the Congo.
The Burton classic
Montague Burton founded his suit business in Chesterfield in 1903 and it grew to become one of Britain's largest chains of clothes shops. Our understanding of the suit as a badge of healthy, respectable British manliness owes much to Burton's ethos. Between the 1920s and 1970s most British men would have passed through Burton's doors to purchase their first suit, imbibing as they did its military precision, moral rectitude and quiet taste that informed a reassuring sense of what was normal. Loud colours, extreme cut and any tendency towards unsporty softness were viewed with extreme suspicion.
The 1940s Edwardian
There is something so satisfyingly elegant about the New Edwardian suit, that aristocratic fad that hit the streets of Mayfair and Chelsea in the late 1940s and early 1950s. A revivalist fad among ex-guardsmen, aristocratic loafers and interior designers, its wasp-waisted outline set itself against the baggy hang of the demob suits that served for the majority of the male UK population. The style's accessories – bowler hat, polished shoes and umbrella – provided regimental glamour, while velvet collars, embroidered waistcoats, ticket pockets and covered buttons recalled the bonhomie of racetrack and music hall: suit as fancy dress.
The Armani gigolo
Giorgio Armani deconstructed the suit in the 1980s, sloping the shoulders, lowering the buttons and adopting lighter fabrics. His suits signalled a sense of femininity, an abandonment to the caressing feel of fabric on the hard surfaces of the male body. This was a frisson celebrated in his designs for the lead character Julian, played by Richard Gere, in American Gigolo. Julian's narcissism became the signature theme for a decade's flirtation with style.
The Japanese minimalist
'Iki' is the ancient Japanese understanding of understated elegance, a concept that has proved useful in the translation of the rules of the European and North American suit to other contexts. In the 1970s Japanese designers brought a hybrid interpretation of East and West to the Paris catwalks. Kenzo Takada, Rei Kawakubo and Yohji Yamamoto developed an austere, decentred suit. Beloved of architects, avant-garde film directors and advertising moguls, it proclaimed all the sophistication that Savile Row sometimes lacks.
guardian.co.uk © Guardian News & Media Limited 2010
Published via the Guardian News Feed plugin for WordPress.