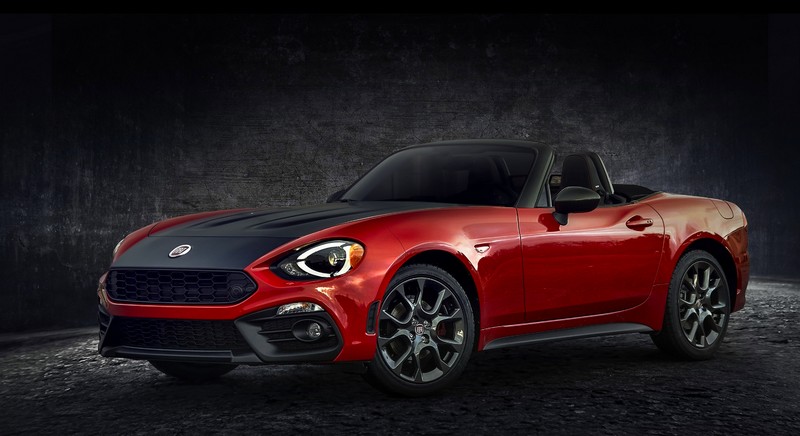 Continuing the legacy of Karl Abarth's performance-inspired vehicles known for their rich racing heritage, the 2017 Fiat 124 Elaborazione Abarth debuted at this year's New York International Auto Show.
The Fiat 124 Elaborazione Abarth is the heir of the roadster that drove Fiat to its first European Rally Championship win in the 1970s. Key Abarth features include rear-wheel drive, a sophisticated suspension and a four-cylinder turbocharged MultiAir 1.4 Turbo engine with best-in-class 160 horsepower that is available with a six-speed manual or six-speed automatic gearbox with paddle shift. The Elaborazione Abarth-exclusive Sport Mode changes the calibrations of the engine, automatic transmission, electric power steering and dynamic stability control system to ensure a sporty, responsive and performance-oriented driving experience.
The all-new 2017 Fiat 124 Spider revives the storied nameplate, bringing its classic Italian styling and performance to a new generation. Paying homage to the original 124 Spider nearly 50 years after its introduction, the 2017 Fiat 124 Spider delivers the ultimate Italian roadster experience with driving excitement, technology and safety combined with iconic Italian design.
The 2017 Fiat 124 Spider lineup also includes the Classica and Lusso models. To celebrate the return of the classic nameplate, the first 124 vehicles will be offered as a limited-edition Prima Edizione Lusso, featuring an exclusive color combination and commemorative badging. The all-new Fiat 124 Spider will arrive in FIAT studios in North America beginning in summer 2016.
The interior design reflects the performance-oriented details for which cars sporting the Scorpion badge are famous. There is Rosso (red) stitching throughout, including on the leather-wrapped steering wheel, wrapped instrument cluster hood, lower instrument panel and parking brake.