Sixties inspired design, exacting standards and on demand performance, Speedback GT will be gracing David Brown Automotive's stand at Geneva International Motor Show between 9th and 19th March 2017.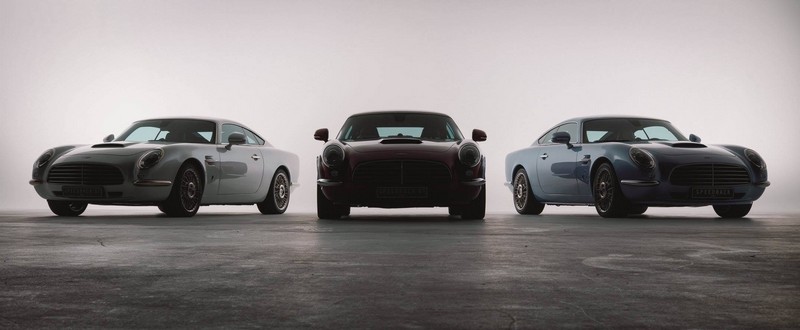 At this year's Geneva Motor Show, David Brown Automotive is displaying two 2017 specification Speedback GTs, showcasing further refinements in design and engineering, including examples of unique bespoke features, as well as colour & trim personalisation.
Chief Executive Officer and Owner, David Brown; and Managing Director David Sowden, will present to the world's Automotive and Lifestyle press on 7th March at 1500hrs, offering the chance to see and hear more about the effort taken to handcraft Speedback GT, with a range of displays of raw and finished materials and parts that showcase the skill and craftsmanship across every aspect of production, development and personalisation.
David Brown Automotive has come a long way since revealing the Speedback GT prototype in 2014.
The 'Behind the scenes: Best of British' film demonstrates the precision and effort that runs through every aspect of David Brown Automotive, from shoot angles, to positions of the cars themselves; while offering the rare chance to see behind the scenes at a prestigious photoshoot.
At present, five cars have been built and delivered to their new owners, with further cars in build. The company currently has the capacity to produce six to ten cars each year with plans to increase this in the very near future.
David Brown Automotive uses a combination of engineering, state-of-the-art technology and traditional coachbuilding manufacturing techniques to build each car, which comprises 142 panels and highly sophisticated systems and electronics. Through these specialist, low-volume manufacturing processes, the Coventry-based sports car manufacturer is redefining modern coachbuilding, to build fully engineered limited-edition, bespoke automobiles made from hand-formed aluminium with entirely handcrafted interiors, each specially commissioned by the customer.
Each and every Speedback GT has a completely unique colour, which is developed by the company for each owner and specially created for each individual car. The paint process for each Speedback GT takes 8 weeks to achieve the perfect finish to showcase its elegant 60's lines.
Priced at £495,000 exclusive of taxes, Speedback GT promises exceptional performance and handling, hosting a 5.0-litre V8 supercharged engine with 510bhp and 461ft lb of torque, hitting 0-60mph in 4.6 seconds with a top speed of 155mph (limited).
Beauty is not just skin deep in Speedback GT. The lower tailgate mechanism is fitted in a range of chrome and nickel finishes, displaying the quality and attention to detail that goes into every aspect of production. The David Brown Automotive badge, highly polished and enamelled, contrasts beautifully with this Speedback GT's exterior finish. The fuel filler cap and surround are machined from a single piece of aluminium, ensuring perfect internal and external beauty, fit and finish.
Showcasing Speedback GT on over 250m2, David Brown Automotive will be located in Hall 2, Stand 2142 from 9th March to 19th March 2017.